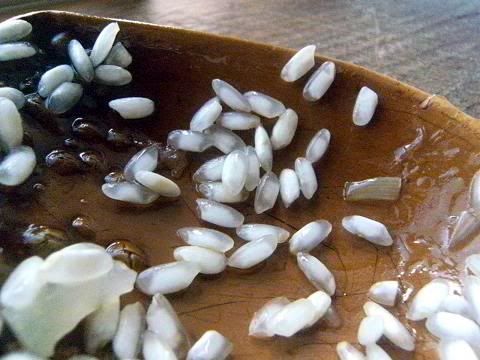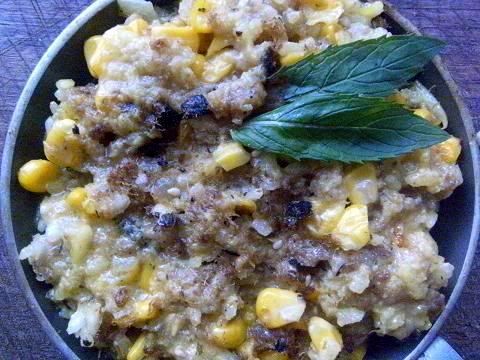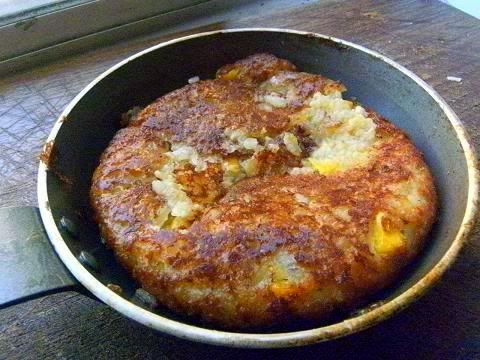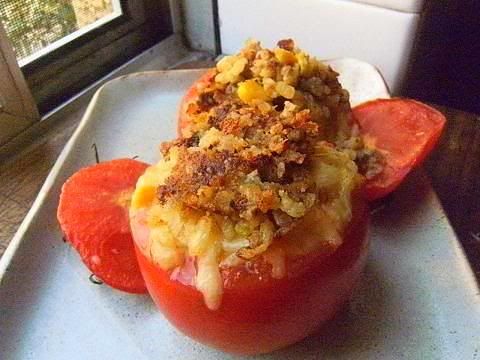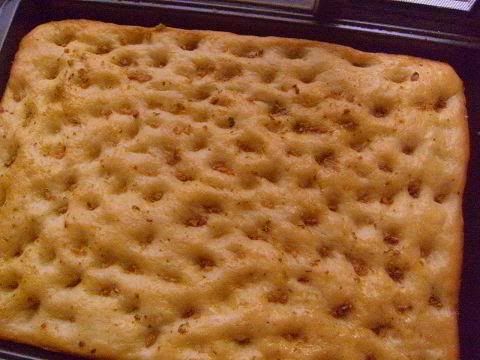 The 2010 March Daring Cooks challenge was hosted by Eleanor of
MelbournefoodGeek
and Jess of
Jessthebaker
. They chose to challenge Daring Cooks to make risotto. The various components of their challenge recipe are based on input from the Australian Masterchef cookbook and the cookbook Moorish by Greg Malouf.
This month's challenge was a delicious one risotto - creamy and luscious and oh so hearty. Thank you Eleanor and Jess for a wonderful challenge.
For my 1st batch I just wanted to try out my new imported risotto rice and use a simple chicken wing stock just to see what results I could get.
Chicken Flavoured Risotto
My expensive 2 kg bag of risotto rice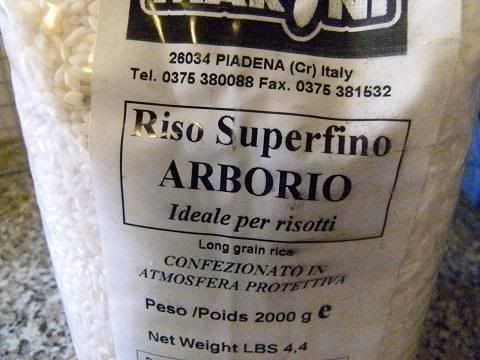 Close up view of risotto rice grains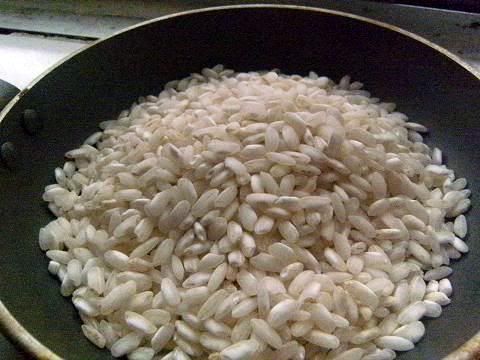 Home made chicken wing stock – heavy with gelatinous goodness. Roast 1 kg of chicken wings and then simmer in 2 litres of water for 1 hour (with veggies and herbs/spices) and refrigerate overnight. Remember the golden rule
The better the stock the better the risotto
.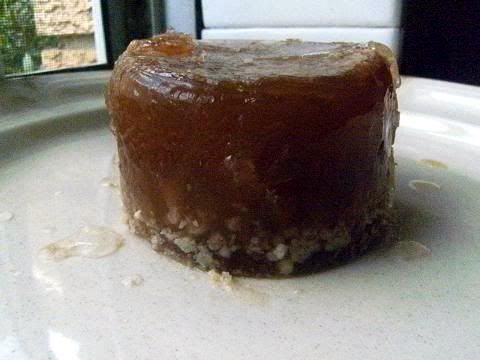 Initial coating the grains of rice with oil – notice the transparent coating on the rice and the interior white capsule of rice. Risotto rice has a outside coating of starch that forms the creamy texture of the finished risotto, and an inside nodule of firmer rice that stays 'firm' even when fully cooked.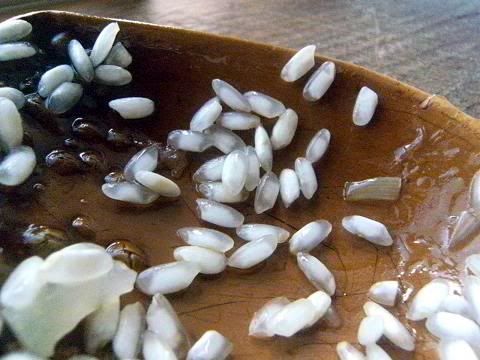 Process of cooking the rice photos taken every 6 minutes.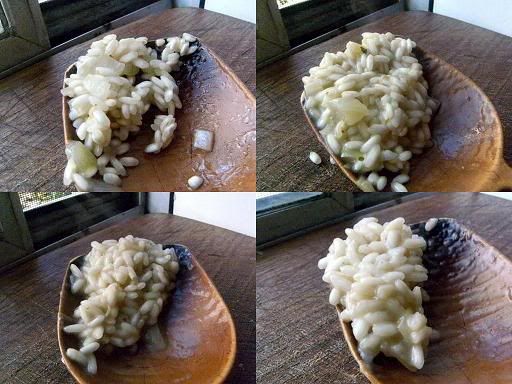 Final risotto rice – nice and creamy and I didn't have to add cheese or cream, since the stock and rice were the of the highest quality.
Comparison of the uncooked and cooked grains of rice.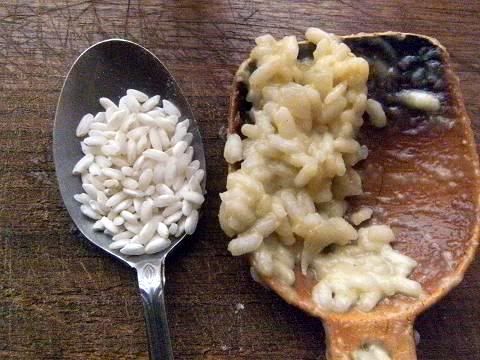 Second Batch
I wanted to make a vegan umami risotto – I used powered shiitake mushrooms, powered seaweed, sesame seeds with sweet corn. My stock was seaweed with garden veggies.
Vegan Umami Risotto
(Sweetcorn, shiitake mushroom and seaweed)
Powdered shiitake mushrooms and seaweed.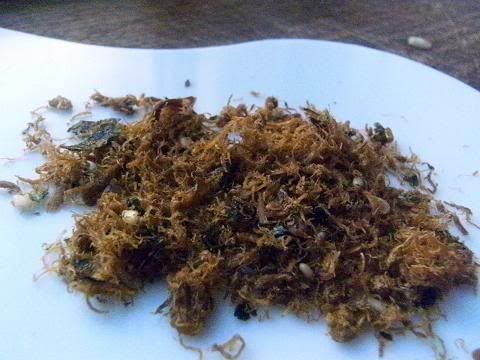 Finished Risotto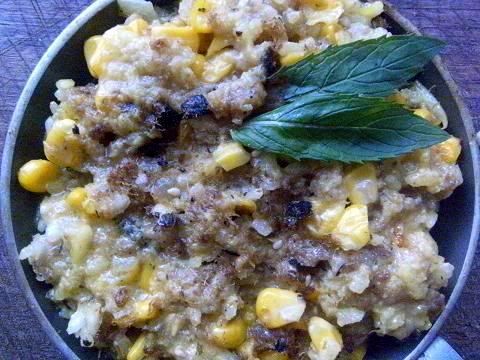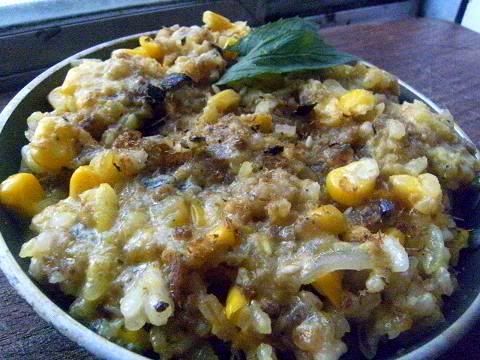 This risotto was extremely tasty in fact it had such a 'meaty' taste I thought that I had used beef stock instead of the seaweed veggie stock I had prepared but I checked and I had used the correct stock. This was so colourful and superb as a lunch snack.
What to with left over risotto?
Arancini di Riso
(Cheese-Filled Risotto Croquettes)
I had some left-over risotto so I made arancini di riso – add an egg yolk and some grated hard cheese (Parmigiano-Reggiano is best) to the cold risotto mixture form into balls (use about 1 ½ tablespoon of mixture), you can place a small cube of soft cheese in the centre if you wish, then coat the rice ball in fresh sour dough breadcrumbs then deep-fry until golden if your arancini are very large you can place the freshly deep-fried croquettes into a 180C (350F) oven for ten mins.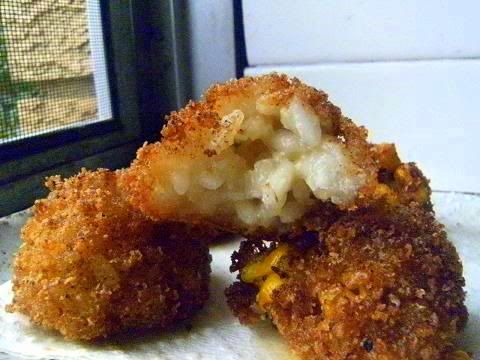 The name
Arancini
derives from the food's shape and color, which is reminiscent of an
orange
(the Italian word for orange is arancia, and in Sicilian, arancici means "
little oranges
"). Arancini is masculine plural, the singular is arancino (or in Sicilian arancinu). In some parts of Sicily, the feminine plural, arancine, is common.
Arancini are usually filled with ragù (meat sauce), tomato sauce, mozzarella, and/or peas. Though I really like roasted eggplant a lot and mushrooms are wonderful.
Here is a
link
to a video showing you how to make them it is best to form the balls and place them in the fridge for an hour before deep-frying them.
Here is
link
to a great classic recipe for arancini (the recipe is on the second page you have to click on the continue button on the bottom of the page.
Risotto al salto
Risotto pancakes
(risotto al salto)
are best made with classic risotto Milanese, flavoured only with onions, butter, cheese and saffron. Simply mix leftover risotto with egg as a binder (about one beaten egg per cup of cold risotto), form thin patties and sauté over relatively high heat until crusty on each side. It's a great luncheon dish with salad or vegetable.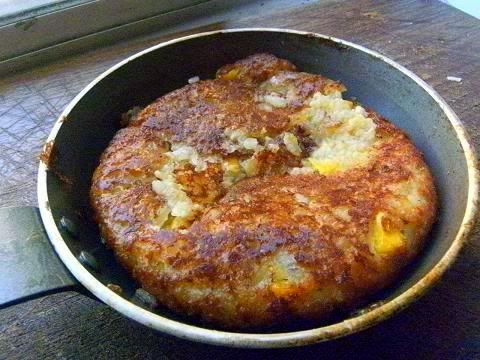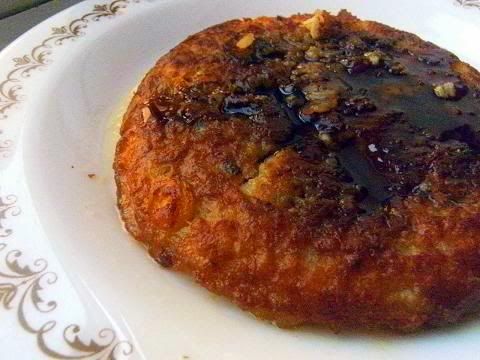 Risotto stuffing
Plain, mushroom or other risotto makes a great stuffing for poultry and many vegetables. Simply stuff the bird and bake. For peppers, artichokes, zucchini and eggplant, steam or boil until they're barely tender, then scoop out the centers, stuff and bake until soft and the rice is crusty. Cabbage and green leaves are other possibilities, needing only brief blanching before stuffing. Tomatoes don't need to be pre-cooked, just emptied of seeds and juice.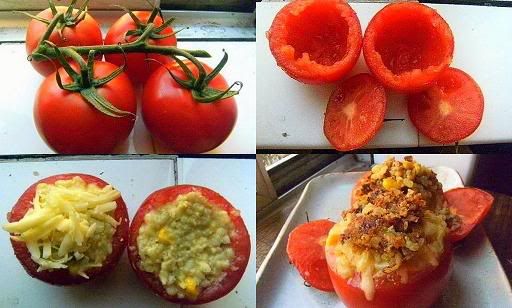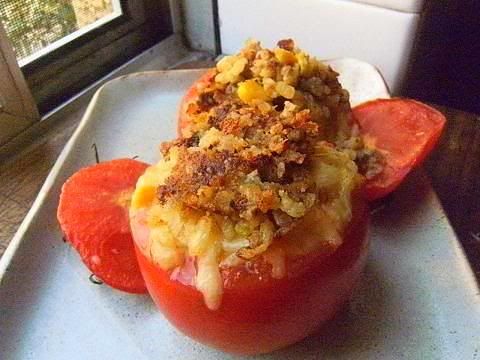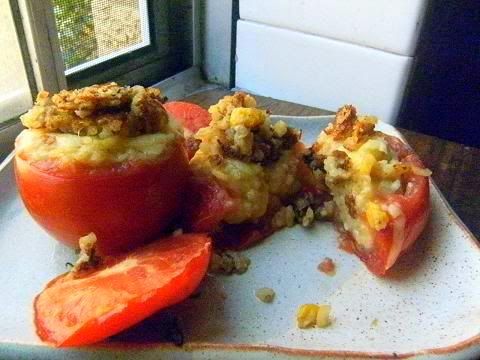 Risotto Focaccia
You can make bread with left over risotto - use your favourite focaccia recipe but replace 1/2 of the flour with pureed risotto rice, and follow your recipe.
Unbaked focaccia
Baked risotto focaccia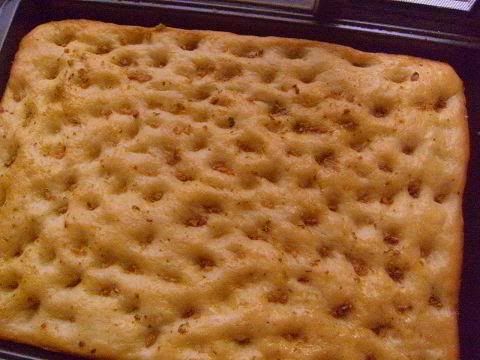 Close up of risotto focaccia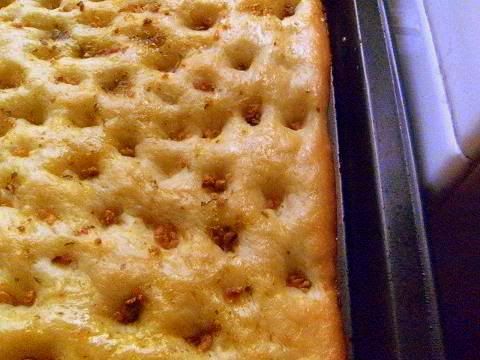 Underside of the baked risotto focaccia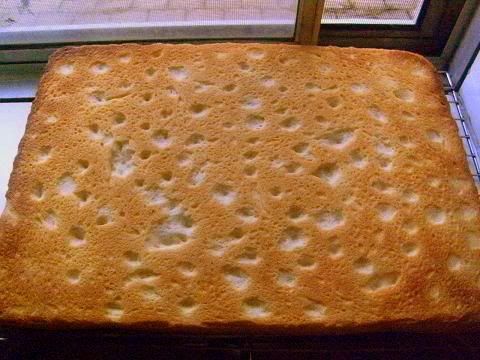 The cut focaccia bread - notice the large holes of the crumb - typical of rice bread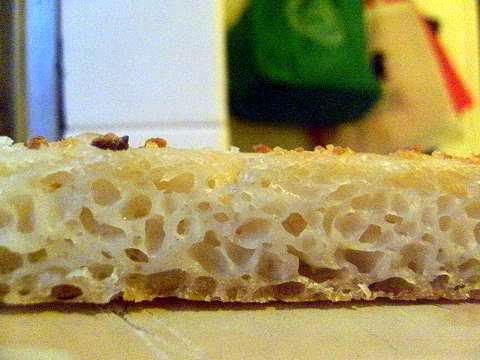 Risotto Recipe
Preparation time
:
Stock: 20 minutes prep time, 3 hours cooking.
Pumpkin Risotto: 10 minutes prep time, 20-30 minutes cooking. ,
Lemon Risotto: 10 minutes prep time, 20-30 minutes cooking.

Equipment required
:
• 5 Litre stock pot, or other large pan
• knife
• chopping board
• tablespoon
• teaspoon
• sieve
• ladle
• hand blender (optional)
• wooden spoon or other stirring implement
• grater
• saucepans
• measuring cups
• scales

Chicken Stock
Ingredients
:
1 large chicken 2-3 pounds about 1 kg
chicken bones 2-3 pounds 1 kg
2 onions, roughly diced
1 medium leek - white part only, roughly diced
2 sticks celery, roughly diced
2 cloves garlic, halved
1 cinnamon stick
1 tsp. white peppercorns ( Any type of whole peppercorn will do)
2 bay leaves (fresh or dried, it doesn't matter.)
peel of 1/2 lemon
1/4 tsp. allspice
Directions
:
1. Wash the chicken and bones and places in a 5 Litre pot, cover completely with water and bring to a boil
2. Skim away any scum as it comes to the surface
3. Add the vegetables and bring back to a boil
4. Add the rest remaining ingredients and simmer very gently, uncovered for 1.5 hours
5. Carefully lift out the chicken, set aside. The chicken meat can be removed from the chicken, shredded off and used for other things like soup!
6. Simmer the stock gently for another hour. At , at the end you should have around 2 Liters
7. Carefully ladle the liquid into a fine sieve, the less the bones and vegetables are disturbed in this process the clearer the stock will be. 
The stock is now ready for use. Freeze what you don't need for later use.
Risotto Base
Ingredients
:
olive oil 2 fluid oz 60 ml
1 small onion, quatered
rice 14 oz 400g
Any type of risotto rice will do. I use Arborio but the recipe itself says Vialone Nano. Another to look for is Carnaroli.
white wine 2 fl oz 60 ml
chicken or vegetable stock , simmering 2 pints 1 L
Directions
:
1. Heat oil in a pan and add onion. Fry for a few minutes to flavour the oil then discard. (We diced ours and left it in as we like onion).
2. Add the rice and stir for a few minutes to coat each grain of rice with oil and toast slightly.
3. Add the wine and let it bubble away until evaporated.
4. Add enough stock to cover the rice by a finger's width (about an inch or two). Don't actually stick your finger in, it will be hot. Just eye it off.
5. Cook on medium heat, stirring with a wooden spoon from time to time, until most of the stock has been absorbed.
6. Repeat Step 5 making sure to leave aside approximately 100 ml. of stock for the final step. .
7. Repeat, save 100ml for the final stage.
8. Once you are at this point, the base is made. You now get to add your own variation.