The 2010 April Daring Cooks challenge was hosted by Wolf of
Wolf's Den
. She chose to challenge Daring Cooks to make Brunswick Stew. Wolf chose recipes for her challenge from The Lee Bros. Southern Cookbook by Matt Lee and Ted Lee, and from the Callaway, Virginia Ruritan Club.
This month's challenge was to make Brunswick Stew (either using a slow method or a faster method).
Verdict
- The final stew is very tasty and light and with the addition of lemon juice and vinegar at the end really gives a nice tang to the dish.
The recipe yields a large quantity so be prepared to freeze or make leftovers, even a half batch is a lot!
Australian Brunswick Stew
I did the long version number one. I wasn't expecting such a flavoursome stew it really is one of the best tasting stews I've made - it is not too heavy it remains me of autumnal evenings for some reason. I had chicken stock on hand from the last challenge.
I used Australian crocodile as my lean meat substitute (I couldn't find rabbit or squirrel LOL) this is fairly easy to get in my local area, it did taste a little too much like snake (after cooking) I thought. Crocodile is delicate sear it first and then add it near the end (I shredded it first) to the stew
Some of the veggies - I used turnips since they were on special and I love them, notice the Chinese sausage (I used in place of the bacon slab) which I left in the stew no use wasting it. I used double peeled board beans since they were to hand and were top quality. Also I added the traditional Australian addition of vegemite (4 tablespoons for a double batch) to the stock as any Aussie knows it adds a lot of yum to any stew. Also I fried the onions I don't like using raw onions in stew they always taste raw even after cooking for many hours to my tastebuds. I added some roasted garlic also I some to hand.
I did a double batch enough for twenty people they will be due very soon about an hour from now. So I used my HUGE slow cooker it holds about 30 litres. I was wondering what I was going to make thank goodness the challenge was easy to scale up to a large number.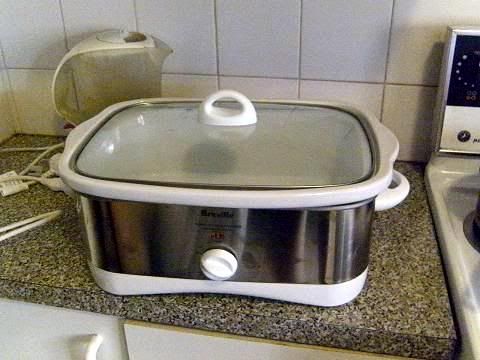 As Wolf mentioned the stew about half way through will look yellow and mine really does!
After cooking everything I tested the stew I placed some in a small pot to test. The spoon really does stand up!!
Final stew it was delicious unlike anything I have made, it is so fresh tasting, initially you taste a combination of the meat and veggies together at once which is so pleasant and when you eat it you get a flavour array from all the different ingredients. I added lotus root and garlic chives in the last 10 mins to add some visual interest and freshness since I had them to hand. I really think using the Chinese sausage added a great depth of flavour to the stew and the fresh chives really lifted the final dish to a new height.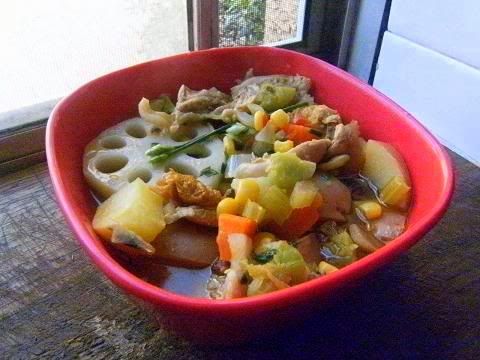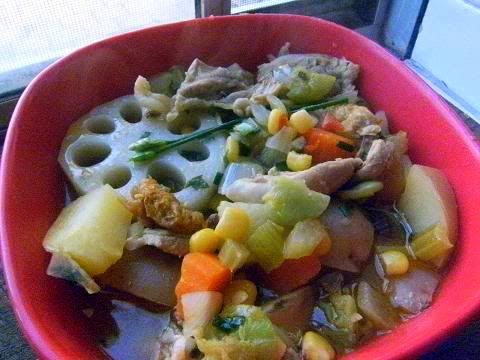 I baked some of my favourite bread (pane di casa) to have with the stew. I made six loaves. See recipe below.
Pictures of the final dish I served to twenty people. I added some Chinese greens at the end and some fried tomato paste with lots of smoked paprika which really added that extra visual and taste punch to this superbly delicious stew. I'm so impressed with this stew it is so light yet hearty and it has a lovely mild sweet/sour characteristic to it that is enchanting.
The average score from twenty people was 9.25!!! High praise from a group of foodies. I think the crisp toasted bread didn't hurt too much.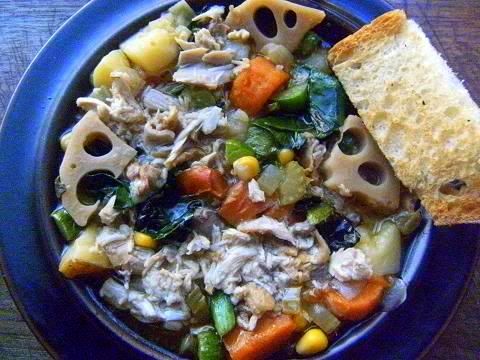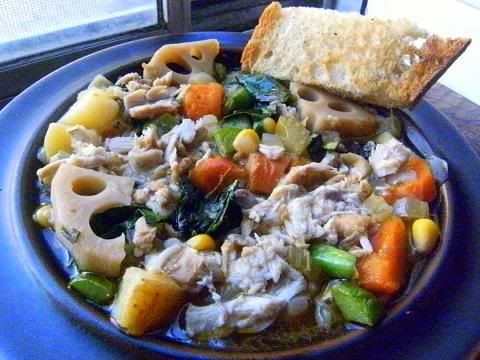 The final stew is so colourful and has so much flavour.
Four people guessed that there was crocodile in it so I would say that it was present as a distinct flavour, the individual components could be tasted which is one thing I liked about this stew and the stock was a great melding of the different ingredients.
Crocodile is easy to prepare and cook. It is best cooked from frozen as during the thawing process most of the moisture runs out decreasing the flavour. It should be cooked for two minutes on either side and then allowed to stand for a few minutes. It is best served just cooked (in red meat terms, medium rare). Remove excess fat after cooking. If frying, always use butter or olive oil as they will not impart a flavour that is unique. Do not use margarine as the hydrogenated fats can emit an unpleasant flavour and prevent you from using other dairy products such as cream in the recipe.
Crocodile tastes like a very meaty chicken with a hint of fish to it which is very nice in this dish it adds a lot of complexity to the dish.
What to do with leftover Brunswick stew?
Brunswick stew pie
Make a simple brown butter roux (equal amounts butter and flour pan fried until brown) add to the stew this will thicken it to the consistence of a pie filling. You can make individual pot pies as I did or a large pie. I used a simple pie crust (2 parts flour:1 part cold butter and the minimum amount of cold water to combine all the ingredients) with an egg yolk wash on top with some rock salt crystals.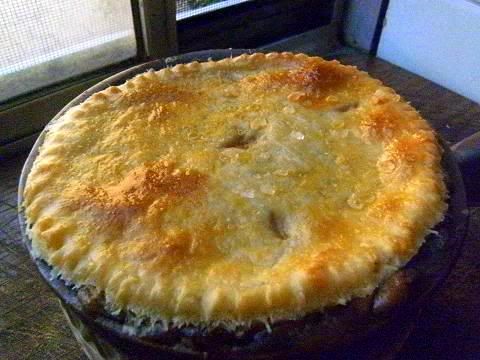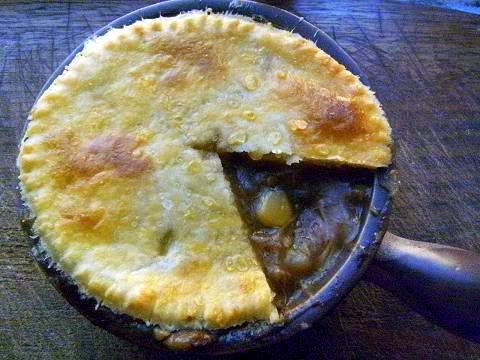 Brunswick submarines
Hollow out a good quality sourdough bread roll fill with the heated thickened (as above) stew add cheese, chopped chives and toasted minced garlic, grill (broil) until cheese is bubbling and melted.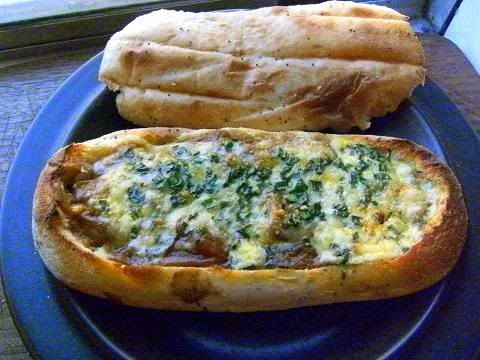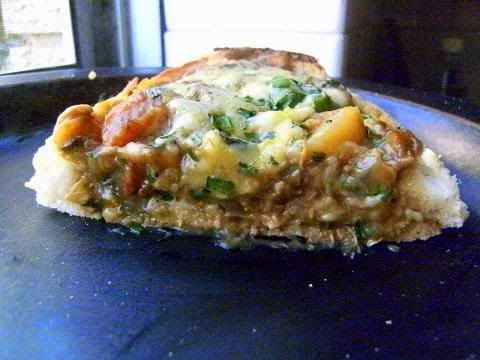 Vegetarian Brunswick Stew
I thought I would make a vegetarian version. Firstly I started with the stock. The ingredients are starting with the red powder on the top going clockwise. Smoked chilli powder, soup seaweed, kombu, vegemite, powdered shiitake mushrooms and seaweed with sesame seeds, shredded smoked dried seaweed, shredded cloud mushrooms and in the centre smoked paprika. And below are sweet soya sauce and mushroom soya sauce.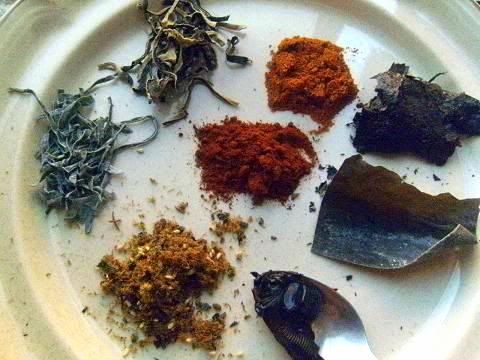 I have a special box full of umami ingredients and sushi ingredients.
I made the vegetarian stock (the batch on the left) separately it was very strong in meaty goodness. The appearance of the stock just after I added it to the other ingredients (the batch on the right it is much redder).
And the colour of the final stew liquid after simmering it is much browner with a tinge of yellow.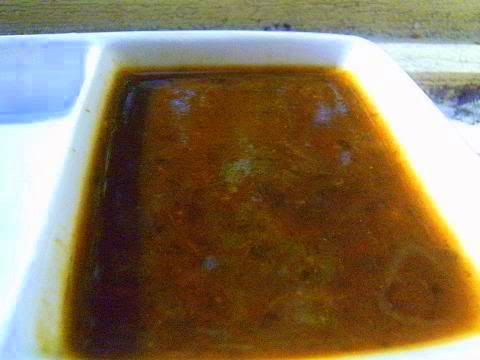 Method to make the vegetarian Brunswick Stew
Add all the stock ingredients (except the powdered shiitake mushrooms, smoked chilli and the smoked paprika) into a stock pot simmer for 2 hours then purée with a hand blender until smooth. The various ingredients absorb a lot of water and after blending the stock is thick and a very dark colour see above.
To make the stew fry the onions and when softened add the smoked chilli, powdered shiitake mushrooms and the paprika and semi-dried tomato pesto and fry until the oil changes colour to red. The smell is amazing at this stage, then add the other root veggies and fry until softened and you can smell the odour of the sweetness coming from the veggies. Then add the vegetarian stock and simmer for about 2 hours.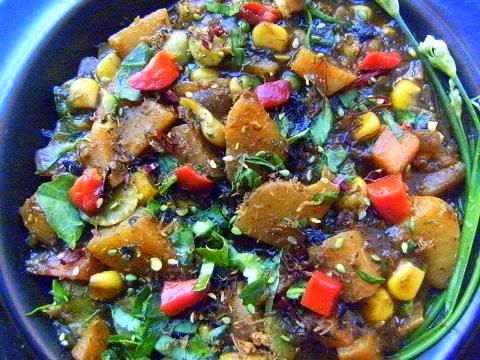 The final stew had a wonderful colour which the root veggies absorbed and it had a strong savoury meaty taste with a umami zest at the end. And no it doesn't taste of seaweed or mushroom. But did it taste like the first Brunswick no! it tasted like if I had used beef and chicken it had a more robust flavour and also the stew was much thicker overall, a much heartier stew with a strong savoury taste. I garnished with chopped Chinese greens, toasted wasabi sesame seeds, chive flowers, roasted red capsicum (bell peppers) and powdered shittake mushrooms. It looked very colourful and so so delicious.
I just finished the stew (an early dinner) with three others friends - well they all thought I had made an excellent beef stew they really liked it a lot, one even thought I had use wagyu beef, well I'm disappointed a bit, I wanted to make a vegetarian stew with a nice light chicken/crocodile meat flavour like the last one. Back to the drawing board. Will have to experiment a bit with the stock to lighten it to a roast chicken flavour and not beef.
What to do with leftover Brunswick stew?
Brunswick Cottage Pies
Place leftover stew into individual pie pots and top with your favourite roasted mashed veggie (add a little cream (or cheese) to the mash and season well). Then bake until topping starts to brown you can add breadcrumbs and cheese if your wish. I used mashed roasted carrots and mashed roasted turnips (yum yum) this is my favourite way so far of using the leftovers with the submarines a close second. These cottage pies left me in a blissful comfort stupor for a few hours there is something about the contrast between the mash and the stew that is amazing. As you can see the leftover vegetarian stew went very thick and a very dark colour overnight.
Brunswick Cottage Pies
- carrot (right) and turnip (left)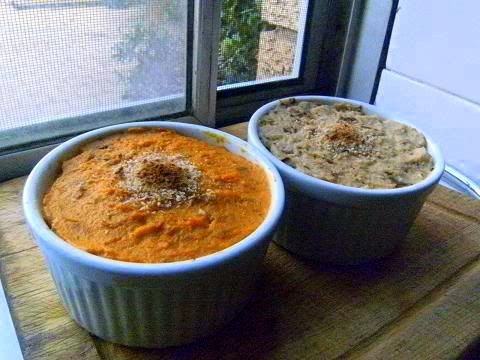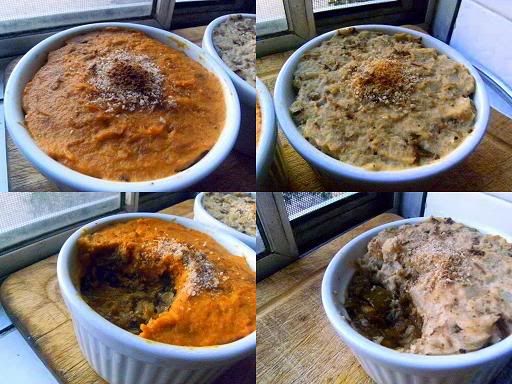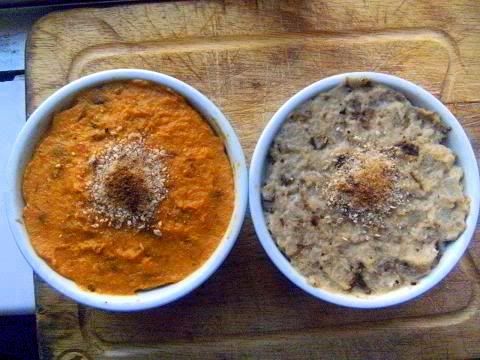 I think this would a great way to serve the stew in the first case it is such a lovely dish yum yum. Next time I will be doing split pea mash and roasted garlic mash they would go so well with the stew.
Brunswick Bread Stew
A couple of mates came over luckily I started making bread stew the night before. Lots for cultures have the tradition of adding bread to leftovers to make a new meal. This recipe is based on what my mum did when we had leftover stew. This was my father's favourite meal we used week-old Finnish black rye bread I love it also I make it a few times a month.
The night before chop a good sourdough (or dark rye bread which adds an extra layer of flavour) loaf into cubes add to the stew, add extra chopped greens (like spinach) just before heating. Slowly heat until the greens soften and the stew is hot. Check for seasoning you will most likely need to adjust I added extra soy sauce and some extra fried tomato paste and a lot of pepper. If you look above notice the vegetarian stew I made yesterday and the difference after adding the bread cubes overnight and heating gently it looks exactly like beef stew and tasted like that too. The colour and taste deepened a lot overnight also. The texture of the resulting stew is very different to the normal vegetarian Brunswick stew the bread takes on the texture of beef! I think it has got to do with using powdered seaweed and powdered mushroom I guess these gelled (solidified) in the bread to form the correct texture. I'm very impressed with this stew I'll have to experiment and see if I can reproduce the reaction again. I'll post the full recipe on my blog. Sorry for the photo it is night here and had to use the flash.
Note about the type of bread to use -- use old stale bread and the denser the better (dark rye, German black bread and day-old sourdough are all good) do NOT use soft white bread like Wonder soft you will end up with an unpleasant mush instead of bread stew. The bread should hold its shape and have some texture when prepared in the stew.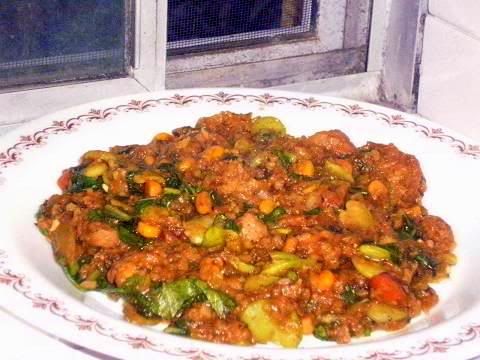 Recipe Source(s)-
I've included two different recipes for this Challenge, out of the hundreds of variations out there. The first is from
"The Lee Bros. Southern Cookbook: Stories and Recipes for Southerners and Would-Be Southerners" by Matt Lee and Ted Lee",
and the second from the
Callaway, Va Ruritan Club,
who hand out cards with their recipe printed on them, every year at the Blue Ridge Folklife Festival, and where I tried my first ever Brunswick Stew.
Notes-
Version One-
1- I used 2 Serrano Chiles, fresh, stemmed, deseeded and sliced into quarters. Use what you have on hand or can get easily.
2- I used pork (country style pork ribs, which here, are mostly meat, with very little bone) instead of rabbit, as it is hard to find, as well as rather on the expensive side. In fact, the original recipe says to "substitute 1 1/2lbs of boneless pork shoulder cut to 1" dice".
3- I used Swanson's Cooking Chicken Stock, rather than make my own, as it would have added extra time to an already long cooking time. You could use your own homemade stock or store bought if you prefer.
4- I used frozen corn, canned butterbeans, red onions, red skinned potatoes, frozen carrots, and chopped the celery into a rough dice. You could also use lima beans if butterbeans are not handy or easy to find.
5- Now, it seemed to me that is was a waste of perfectly good bacon and celery to simply discard them. So I left them in mine. The chiles fell apart as I tried to remove them, so only the skins were actually removed. You could do the same if you choose.
6- You can use dried bay leaves if you do not have fresh handy. In fact, the ONLY reason I used fresh myself, is because I happen to have a Bay plant. Otherwise, dried is generally the way to go.
Version Two-

Poultry Seasoning contains variations of sage, thyme, pepper, marjoram or other similar herbs. You can substitute with your favorite herbs and spices if you cannot find actual poultry seasoning.
Variations allowed-
Recipes may be halved if you choose.
You may substitute any vegetables you don't prefer. You may use fresh, canned or frozen vegetables. My variations are included in the notes. For example- some recipes include okra in their stew, others use creamed corn.
You may sub out the rabbit for pork, turkey, beef, or even another game animal if you have it available.
Mandatory-
You must use one of the two recipes provided. Now, to not exclude our vegans/vegetarians, if you'd like, use vegetable stock and leave out the meats. It won't be a 'true' Brunswick Stew, but it'll have the spirit of one.) There's no gluten anywhere in this that I'm aware of, so we're good in that regard.
Prep Time-
Recipe 1- Estimated time-3-4 hours, longer if making the Sunday Chicken Broth, or your own stock from scratch
Recipe 2- Estimated Time- 1 ½ to 2 ½ hours, depending on whether you have your meats already cooked first.
Equipment needed-
Large stock pot, at least 10-12qt OR Dutch Oven , or smaller if you halve the recipe used
Cutting board
Knives
Measuring cups and spoons
Colander
Large bowl
Large wooden spoon for stirring
Tongs
Ingredients-Recipe One, the Long Way-
From
"The Lee Bros. Southern Cookbook: Stories and Recipes for Southerners and Would-Be Southerners" by Matt Lee and Ted Lee

Serves about 12
1/4 lb / 113.88 grams / 4 oz slab bacon, rough diced
2 Serrano, Thai or other dried red chiles, stems trimmed, sliced, seeded, flattened
1lb / 455.52 grams / 16oz rabbit, quartered, skinned
1 4-5lb / 1822.08- 2277.6 grams / 64-80oz chicken, quartered, skinned, and most of the fat removed
1 Tablespoon / 14.235 grams / ½ oz sea salt for seasoning, plus extra to taste
2-3 quarts / 8-12 cups / 64.607-96.9oz Sunday Chicken Broth (recipe below)
2 Bay leaves
2 large celery stalks
2lbs / 911.04 grams / 32oz Yukon Gold potatoes, or other waxy type potatoes, peeled, rough diced
1 ½ cups / 344.88 grams / 12.114oz carrots (about 5 small carrots), chopped
3 ½ / 804.72 grams / 28.266oz cups onion (about 4 medium onions) chopped
2 cups / 459.84 grams / 16.152oz fresh corn kernels, cut from the cob (about 4 ears)
3 cups / 689.76 grams / 24.228oz butterbeans, preferably fresh (1 ¼ lbs) or defrosted frozen
1 35oz can / 996.45 grams / 4 cups whole, peeled tomatoes, drained
¼ cup / 57.48 grams / 2.019 oz red wine vinegar
Juice of 2 lemons
Tabasco sauce to taste
Recipe Two, The Short Way-

This version goes on the assumption that you already have cooked your meats and have broth on hand. This was also my first experience with eating Brunswick stew. It's got more of a tomato base, has larger, chunkier vegetables, but is just as wonderful as recipe one. However, it is a lot quicker to make than the first recipe.
Brunswick Stew recipe from the Callaway, Va Ruritan Club, served yearly at the Blue Ridge Folklife Festival in Ferrum, Va.
Serves about 10
2 ½ lb TOTAL diced stewed chicken, turkey, and ham, with broth - yes, all three meats
3 medium diced potatoes
2 medium ripe crushed tomatoes
2 medium diced onions
3 cups/ 689.76 grams / 24.228oz frozen corn
1 ½ cups / 344.88 grams / 12.114oz frozen lima beans
4-5 strips crumbled bacon
½ stick / 4 tablespoons / ¼ cup / 56.94 grams / 2oz of butter
1 Tablespoon / 14.235 grams / .5 oz sugar
1 Tablespoon / 14.235 grams / .5 oz 'Poultry Seasoning'
Dash of red pepper
2 diced carrots (optional)
Tomato juice
Directions-Recipe 1-
1-In the largest stockpot you have, which is hopefully larger than the 5 qt ones I have, preferably a 10-12 qt or even a Dutch Oven if you're lucky enough to have one, fry the bacon over medium-high heat until it just starts to crisp. Transfer to a large bowl, and set aside. Reserve most of the bacon fat in your pan, and with the pan on the burner, add in the chiles. Toast the chiles until they just start to smell good, or make your nose tingle, about a minute tops. Remove to bowl with the bacon.
2- Season liberally both sides of the rabbit and chicken pieces with sea salt and pepper. Place the rabbit pieces in the pot and sear off all sides possible. You just want to brown them, not cook them completely. Remove to bowl with bacon and chiles, add more bacon fat if needed, or olive oil, or other oil of your choice, then add in chicken pieces, again, browning all sides nicely. Remember not to crowd your pieces, especially if you have a narrow bottomed pot. Put the chicken in the bowl with the bacon, chiles and rabbit. Set it aside.
3- Add 2 cups of your chicken broth or stock, if you prefer, to the pan and basically deglaze the4 pan, making sure to get all the goodness cooked onto the bottom. The stock will become a nice rich dark color and start smelling good. Bring it up to a boil and let it boil away until reduced by at least half. Add your remaining stock, the bay leaves, celery, potatoes, chicken, rabbit, bacon, chiles and any liquid that may have gathered at the bottom of the bowl they were resting in. Bring the pot back up to a low boil/high simmer, over medium/high heat. Reduce heat to low and cover, remember to stir every 15 minutes, give or take, to thoroughly meld the flavors. Simmer, on low, for approximately 1 ½ hours. Supposedly, the stock may become a yellow tinge with pieces of chicken or rabbit floating up, the celery will be very limp, as will the chiles. Taste the stock, according to the recipe, it "should taste like the best chicken soup you've ever had".
4- With a pair of tongs, remove the chicken and rabbit pieces to a colander over the bowl you used earlier. Be careful, as by this time, the meats will be very tender and may start falling apart. Remove the bay leaf, celery, chiles, bacon and discard.5 After you've allowed the meat to cool enough to handle, carefully remove all the meat from the bones, shredding it as you go. Return the meat to the pot, throwing away the bones. Add in your carrots, and stir gently, allowing it to come back to a slow simmer. Simmer gently, uncovered, for at least 25 minutes, or until the carrots have started to soften.
5- Add in your onion, butterbeans, corn and tomatoes. As you add the tomatoes, crush them up, be careful not to pull a me, and squirt juice straight up into the air, requiring cleaning of the entire stove. Simmer for another 30 minutes, stirring every so often until the stew has reduced slightly, and onions, corn and butterbeans are tender. Remove from heat and add in vinegar, lemon juice, stir to blend in well. Season to taste with sea salt, pepper, and Tabasco sauce if desired.
6 You can either serve immediately or refrigerate for 24 hours, which makes the flavors meld more and makes the overall stew even better. Serve hot, either on its own, or with a side of corn bread, over steamed white rice, with any braised greens as a side.
Recipe2-

In large stock pot or Dutch Oven, mix all ingredients, heat until bubbly and hot. Add salt and pepper to taste. Add tomato juice as desired. Cook until all vegetables are tender. Serve hot.
Optional- Not required for the Challenge-
Sunday Chicken Broth
From "The Lee Bros. Southern Cookbook: Stories and Recipes for Southerners and Would-Be Southerners" by Matt Lee and Ted Lee

Makes about 1 quart (4 cups or 919.68 grams or 32.303 oz)
Estimated Time- 1 ¼ hours
Bones and trimmings, but not giblets, of one 3 ½- 4 ½ lb (1594.32-2049.84 grams or 56-72 oz) chicken, or 12-14 oz / 341.64-398.58 grams / approx. 2 cups chicken bones and trimmings
1 large onion, trimmed, peeled, quartered
6 large stems fresh flat leaf parsley
1 stalk celery, cut into 2" lengths
2 large bay leaves
5 cups / 1149.6 grams / 40.379 oz cold water
1 cup / 229.92 grams / 8.076oz crisp dry white wine
Salt and pepper to taste
Place bones/trimmings in medium stockpot and add onion, parsley, celery and bay leaves. Add wine and water, liquid should cover all ingredients, if not, add more until it does. Bring to vigorous simmer over high heat, then reduce heat and simmer gently for roughly 45 minutes to an hour, skimming any scum or fat that comes to the surface.
Strain broth into bowl through fine mesh strainer. Discard the solids. Measure what you are left with, if not planning to further reduce, then salt and pepper to taste.
Store in tightly sealed container in refrigerator until the remaining fat congeals on the top. Remove the fat, and unless not using within 2 days, keep tightly sealed in the refrigerator. Otherwise, freeze, and it will keep for upwards of a month.
Photos by Wolf-
Removing the chicken, shows how tender it has become, as it falls apart upon being lifted from the pan.
Shredded and deboned pork and chicken, with a piece of bacon. Ready to go back into the pot.
Finished stew. This was made using the Lee Bros. recipe. The Callaway Ruritan Club recipe will be redder from the tomato juice.
Links-
Site used for conversions- http://www.gourmetsleuth.com/cooking-conversions/gram-conversions.aspx
History of Brunswick Stew- http://www.brunswickco.com/html/history_of_brunswick_stew.html
Brunswick Stewmaster's Association- http://www.brunswickstewmasters.com/History.htm
The New Georgia Encyclopedia Brunswick Stew- http://www.georgiaencyclopedia.org/nge/Article.jsp?id=h-555
Georgia's World Famous Brunswick Stew- http://www.officialguide.com/gistew.html
Video of a variation on Brunswick Stew- http://www.ifood.tv/recipe/brunswick_stew_5

Slow Cooker tips
1.I always preheat the insert of the slow cooker first just use hot water from the kettle this really speeds up the cooking process a lot.
2.Always heat up the veggies and meat first before adding to the insert again this really speeds up the cooking process.
3.Always sear/brown your meat it improves the flavour and again speeds the final cooking process.
4.Condensation will form in the lid. To avoid dripping the condensation onto the food, always lift the lid gently, straight up, without tilting it, until it is away from the insert.
5.Because there is no evaporation during cooking, there may be excess liquid in the insert at the end of the cooking time. If so, drain it into in a small saucepan and simmer until it has reduced to an appropriate amount. It's important to add seasonings after this reduction takes place, since reducing the liquid will intensify the taste.
6.Vegetables do not cook as quickly as meat, so they should be placed in the bottom of the appliance.
7.Don't lift the lid to stir, especially if you are cooking on the low setting. Each time you lift the lid, enough heat will escape that the cooking time should be extended by 20 minutes to half an hour. To check progress without lifting the lid, spin the cover until the condensation falls off. Then it's easy to see inside.
8.Cayenne pepper and tabasco sauce tend to become bitter if cooked for long periods of time. Use small amounts and add toward the end of the cooking time.
9.Stir in spices for the last hour of cooking. They will lose flavour if cooked with the rest of the ingredients for the long cooking period.
10.Liquids do not boil away in the slow cooker, so if you are making a recipe that wasn't specifically developed for the slow cooker, reduce the liquid by 1/3 to 1/2 unless you are cooking rice or making soup.
11.Dairy products should be added during the last 30 minutes of cooking time, unless the recipes states otherwise.
12.Add tender vegetables like tomatoes, mushrooms and zucchini during the last 45 minutes of cooking time so they don't overcook.
13.Only fill the slow cooker one half to two thirds full. The foods will not cook properly if the appliance is filled to the brim. If the food and liquid level is lower, the foods will cook too quickly.
14.Fresh root vegetables, such as potatoes, carrots, and onions, should be placed in the bottom of the pot, under the meat, for faster cooking. They tend to cook more slowly than meat. I usually par-boil them a while to speed up the cooking process.
General rules for leftovers
1.The food must be in the fridge or freezer within 2 hours of it being cooked. One hour if the weather is hot.
2.Make sure your fridge is at or below 40F (4.5C).
3.The food should be stored in shallow wide containers less than 5cm (2") which speeds up chilling times. Do not stack the containers on top of each other.
4.Chill the food down as rapidly as possible to 40F (4.5C) to discourage any type of bacterial growth. Modern fridges are designed to handle leftovers so don't be concerned about putting hot food into the fridge.
5.Generally use leftovers within 4 days. For gravies and stuffing use within 2 days. Rice use the next day then throw out.
6.Remove the stuffing from cooked poultry and refrigerate or freeze it separately.
7.Use glass or food-grade plastic containers. Do not use a bowl with normal plastic wrap which allows air movement which encourages bacterial growth.
8. Use containers that are about the same size as the food this retards bacterial growth because there is less oxygen for the germs to grow.
9.Make sure all the containers and your hands are clean before storing and handling food.
10.Always thaw frozen foods in the fridge NOT on the counter or in warm water!
11.Freshly prepared hot dishes can be kept warm in the oven provided the internal temperature stays at least 140 degrees F (60C).
12.Leftovers should be reheated to at least 165F (74C) before consuming.
13.Label and date your leftovers.
Recipe for Pane Di Casa
I went to your blog and I noticed that you have done the entire BBA (Bread Baker's Apprentice) challenges so you are a very experienced bread baker so the instructions will be short though I'm sure you will understand. I love the breads you have made they are top notch.
A Pane di Casa Loaf is a traditional Italian bread made by resting the dough for 12 hours (or more) to give the bread an extra chewy texture & deliciously crunchy crust. I go by volumes usually with bread (the conversion is 1 cup of flour is 150 grams and 1 cup of water is 250 grams) since the water is always approximate anyway, and I go by feel. Think of it as a ½ Levain and ½ Ciabatta bread.
For the sponge
2 cups of flour (OO flour if you have it)
2 cups of water
¼ teaspoon of instant yeast (½ teaspoon of fresh cake yeast)
For the dough
3 cups of flour (a good bread flour it can be a mixture of white flour and up to a ½ cup of wholemeal wheat or rye flour)
1 tablespoon of salt
Method
Mix the sponge ingredients together and leave for 12+ hours in a warm place. I usually do it the night before and don't worry I have left it for 20 hrs and have had no problems.
The next day roughly add in the 3 cups of flour autolyse up to three hours (min of 30 mins depends on how busy I am). Add in the salt knead for 8 mins until it's smooth and elastic it is a sticky slightly wet dough. Let the dough rise. Fold (every hour) until it has doubled in volume (about 3 hrs) as described in BAA shape into two long loaves let the loaves rise again. Slash with one cut along the length of the loaf. Preheated 230C oven for about 45 mins with a pan of steaming water in oven for the first 8 mins. I always have the steam pan with water in the oven while it is preheating that way the oven is full of steam when the bread goes in.
I hope this recipe makes sense if not I will expand it for you. Unfortunately I always go by feel and really haven't thought about the recipe much until now.
The good thing about this bread is that it keeps so well up to 10 days (after a week use it for toast) I always have a loaf or two on hand at all times.