Our hosts this month, Barbara of
Barbara Bakes
and Bunnee of
Anna+Food
have chosen a delicious Stacked Green Chile & Grilled Chicken Enchilada recipe in celebration of Cinco de Mayo! The recipe, featuring a homemade enchilada sauce was found on
www.finecooking.com
and written by Robb Walsh.
Mexicans use a lot of mild chillies up to the jalapeño/chipotle heat but outside of the Yucatan its unusual to find anything hotter. Oaxacan food is considered the best cuisine in Mexico.
For my first attempt I did a totally vegan version since one of my family's favourite bean salad is pineapple with black beans which I thought would make an excellent filling for the enchiladas. I got some tinned tomatillos, green tomatoes and chillies a lot of chillies. I really don't like stacked enchiladas so I did rolled ones (they look so much better). I made my own tortillas using both white and blue masa flour great taste. The biggest hint about making them is to press down with a spatula just before you turn them it helps them puff up.
The ingredients for roasted salsa verdes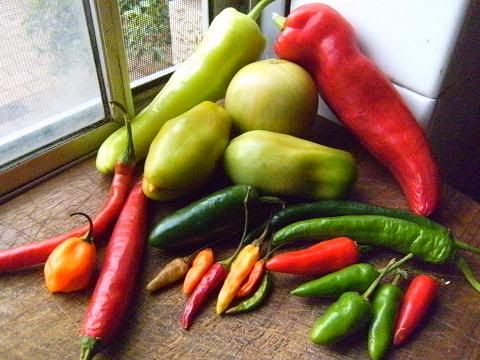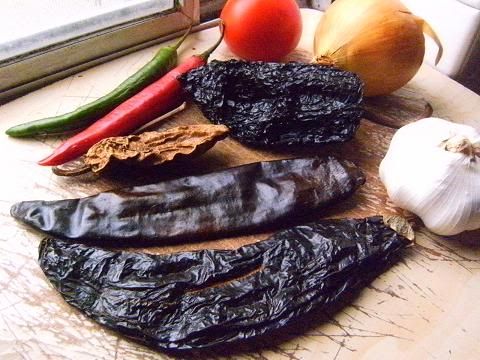 The final dish
Roasted salsa verdes
(roasted tomatillo, roasted green/red tomato and green chilli/herb salsa)
I had very low expectations for this salsa but I was very impressed and enormously surprised by the wonderful tangy sour taste of the tomatillos (I used tinned), green tomatoes, garlic and onion, while the spring onions, chillies and green herbs really add a delightful strong freshness to the relish, it was a huge hit – it is an excellent addition to the pineapple and black bean enchiladas. The roasting ingredients really adds a lovely depth of tangy sourness that is enchanting yet it tasted like a fresh ingredient salsa. I added three finely chopped green hot chillies it was 5-6 heat on a scale of 10.
Roasting Ingredients
½ kg tomatillos (about 15) [if not available use green tomatoes and 2 tablespoons of lime juice]
1 fresh New Mexico (California) (mild) green chilli
1 fresh poblano (mild) green chilli
2 green roma tomatoes
1 red roma tomato
1 onion, rough chop
½ whole-head garlic
Fresh Ingredients
4 green (spring) onions or a ½ small batch of garlic chives, chopped roughly
Jalapeños (medium heat) and/or Serranos (very hot), to taste, de-seeded, de-stemed and de-veined
2 tablespoons coriander (cilantro), chopped
2 tablespoons mint leaves, chopped
Salt, to taste
Method
1. Place all the roasting ingredients on a lightly oiled baking tray for 40 mins at 180C (350F).
2. Char-grill (fire-roast) under a griller (broiler) the tomatillos, red/green roma tomatoes and chillies until blackened, remove skins. Watch carefully and as soon as an ingredient is blacken remove immediately. Chillies should be first then the tomatoes lastly the tomatillos.
3. Remove the garlic cloves from the head.
4. Place all the roasted ingredients into a blender and purée until smooth.
5. Add the fresh ingredients into the blender and purée briefly you want the mixture to be a little chunky. Taste for salt usually about 2 teaspoons is needed.
Pineapple and black (turtle) bean salad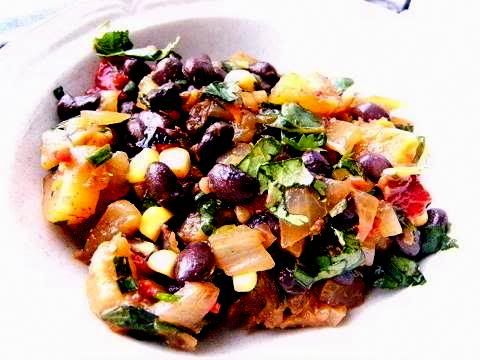 White and blue masa flour tortilla dough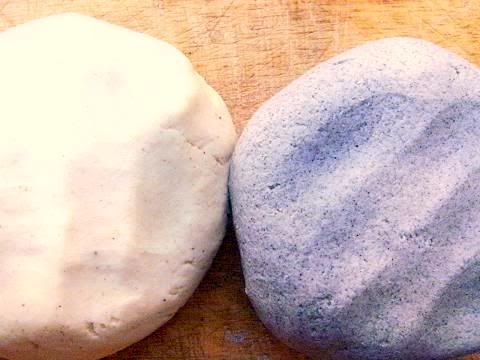 Blue masa flour tortilla
White masa flour tortilla
About making the tortillas
- I used a pizza tray with a tiny (1/2mm) lip and a plate with two pieces of plastic to make the tortillas I weighed out even balls of dough and then used the plate to flatten the tortillas the pizza tray ensured each was thin and the even wieghing ensured all the tortillas were the same size.
Enchiladas ready to be baked
Baked Enchiladas
Final enchiladas
Pineapple and black (turtle) bean enchilada
(based on http://www.recipezaar.com/Pineapple-Black-Bean-Enchiladas-154388 )
This sounds an unlikely gustatory combination – pineapple and black beans – but in fact it is one of my, my family's and friends favourite dishes I make it for any BBQ I'm going to. It has a wonderful taste spectrum the sweet caramelized pineapples/onions/capsicums combine perfectly with the sour black beans, herbs and spices which all together create a rich flavour profile that oscillates between mild sweet to light sour with fresh chilli/coriander/mint highlights. More like a Thai dish with a wonderful balance of sweet, sour and heat. It is a very filling and satisfying dish and it keeps well in the fridge up to four days. This is easily adapted to a vegan recipe just leave out the cheese and sour cream there is little loss of flavour I usually do the vegan version for BBQs (the cheese and sour cream are only included because most people expect cheese/sour cream on/in enchiladas and if not there the final dish isn't as satisfying physiologically for most tasters – sometimes physiological expectations are too strong to counter with a wondrously flavoursome dish with awesome taste but doesn't have the right look, weird but true, try to serve blue coloured bread and see the results!). The first time you are making it add two cups of black beans (and corn if using) taste for sweet/sour balance then add ½ cup of beans until you get the correct balance for your taste buds. Highly recommended and it is so pretty looking also!!!!
Ingredients
1 large mild (white or yellow) onion, chopped (about 1 cup)
2 medium charred-grilled (fire-roasted) red capsicums (bell peppers), chopped
1 tablespoon of high smoke-point oil
300 grams (about 10.5 ozs) pineapple, chopped to the size of the beans
1/3 cup of pineapple juice
600 grams (21 oz) of cooked black (turtle) beans [or use a combination of sweet corn & beans]
125 grams (4.5 oz) charred grilled green (mild) chillies, de-stemed, de-seeded, de-veined and chopped
1 teaspoon each salt and cayenne pepper (use less cayenne pepper if you want less heat)
2 teaspoons each cumin seeds and fennel seeds
2 cloves (or to taste) garlic
½ cup fresh coriander (cilantro). chopped
¼ cup fresh mint, chopped (optional but really nice for its cooling after taste in this dish)
300 grams (about 10.5 oz) roasted salsa verdes enchilada sauce
225 grams (8 oz) 2 cups of low-fat cheese or mild feta cheese (optional)
8 masa flour tortillas (I used 4 yellow corn and 4 blue corn tortillas)
½ cup (8 tablespoons) reduced-fat sour cream
3 tablespoons fresh coriander leaves (cilantro), chopped
1 tablespoon fresh mint, chopped (optional)
Method
1. Dry fry cumin and fennel seeds until they became fragrant about 3 mins remove and crush in a mortal and pestle return to fry pan, add oil and then fry spices, pineapple, onion, garlic, and cayenne until pineapple is browned and the onion is translucent (not browned) about 5-10 mins.
2. Stir in beans (and optional corn), chopped green (mild) chillies, red capsicum (bell pepper) and salt heat until just simmering. Remove from heat add in coriander (and optional mint). Set aside for at least one hour (or overnight is better). With some resting time the beans soak up the flavours (and liquid) and really improves the overall taste. (At this stage it can be eaten as a warm or cold vegan bean salad).
To make enchilada filling
3. Add 1 cup of cheese if using to mixture stir.
4. Spread 1 tablespoon of enchilada sauce and ¾ cup of bean mixture on each tortilla, roll and place into oil sprayed baking dish.
5. Pour remaining enchilada sauce and cheese (if using) over the tortillas. Cover with oil-sprayed foil.
6. Bake 35-40 mins removing the foil for the last 10 mins
7. Garnish each tortilla with sour cream and coriander (and optional mint).
Aussie Nine Chilli Chilli Tortilla Stack
with Brown Chipotle Sauce
Chilli recipe adapted from
here
with a lot of Aussie tweaks. I have never done a chilli before and I thought that it would make a good filling for the stack of blue and white tortillas and then I made a sauce of brown chipotle sauce. The first thing you notice about dried Mexican chillies is the wonderful fruity, earthy and spicy smell of them and they are very mild about 2-3 on the heat scale (once deseeded) so the final chilli is very mild so I thought that a sauce made of brown chipotle would add a great smoky taste with a heat of about 4-5 on a scale of ten. If you want it hotter add more Thai chillies as an extra topping. This is an Australian version of chilli with vegemite, soup seaweed, Chinese sausage, anchovies and kecup manis which adds a lot of umami (meaty savour taste sensation). There is are no beans in it which tends to suck the flavours out of the chilli. Also you fry the tomato paste until it becomes almost black this really adds a great depth of flavour and colour to the final dish. Don't worry the umami ingredients (vegemite, seaweed, etc) cannot be tasted as individual tastes but help to make the savoury meaty taste stronger. The final dish as a very earthy, fruity, mild heat taste with a strong zing of savoury meatiness. I was very surprised by its taste since I'm used to Thai and Indian curries this is very different, so tasty.
Mexican chillies are very different from Thai or Indian chillies they remind me of fruit orchards, drying tomatoes, raisins, licorice, plums, sweet chocolate, bitter cocoa and similar flavours all with mild heat. Of course there are very hot Mexican chillies like Habanero even this is fruity but deadly hot.
Here
is visual chart of several chillies that might be useful.
Some of the dried chillies I used (13 different types shown here)
The final nine chilli chilli
The blue and white tortillas I made for them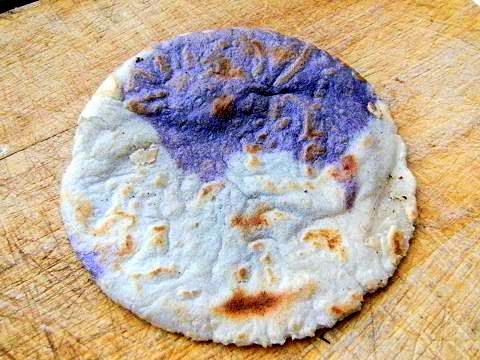 The Smoked Brown Chipotle sauce I made to go with it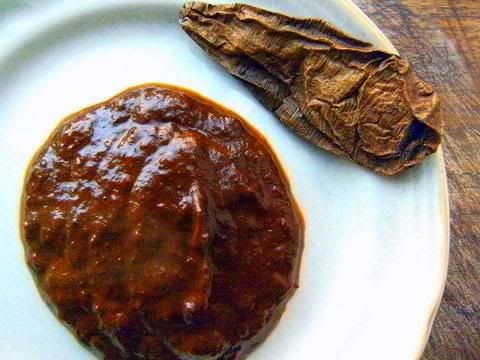 The final stack with nine chilli chilli with smoked chipotle sauce
Aussie Nine Chilli Chilli
(serves 10 people with rice, potatoes, or chilli beans with corn bread)
Recipe adapted from
here
with a lot of Aussie tweaks.
This is a low to medium heat chilli (up to 4-5 on a scale of 10 since I used mainly mild chillies) that is very strong in smoky umami (savoury meat) taste sensation due to the use anchovies, vegemite, Chinese (or smoked chorizo) sausage, kecup manis (or oyster sauce) and roasted seaweed which have high concentrations of umami flavour and the use of meco (smoked brown chipotle) chillies, fried tomato paste and smoked paprika add a strong smoky highlight to the chilli. It is recommended that you use finely-chopped beef tendon which adds a lovely jelly like consistency to the chilli. Remember to cut some cubes of meat finely and all of the tendon very finely so they will 'completely melt' into the final chilli creating a great sauce for the meat pieces. If you want medium to hot heat add an extra 6 Thai (red bird's eye) and 2 Sri Lanka chillies. If you want very hot add 12 Thai and 4 Sri Lanka chillies. Or use a home-made hot chilli sauce. The nine chillies I used were – meco (very smoky low to smoky medium heat), ancho (sweet to low heat), pasilla (sweet to low heat), guajillo (sweet to low heat), New Mexican (Californian) (low to medium heat), Thai (very hot fruity), Sri Lanka (medium fruity heat), smoked paprika (very smoky no heat) and cayenne pepper (very hot).
Ingredients
2 kg (4½ lbs) chuck roast (brisket), cubed (cube some meat very small) [can be a combination of stewing meats try to add some finely-cubed beef tendon if you can get it]
2 Chinese (or smoked chorizo) sausages (about 5 ozs, 140 grams), roughly chopped
12 meco (brown chipotle) chillies, seeded and de-veined
6 ancho chillies, de-seeded and de-veined
2 pasilla chillies, de-seeded and de-veined
2 guajillo chillies, de-seeded and de-veined
2 New Mexican red chillies, de-seeded and de-veined
2 Thai (red bird's eye) chilli, de-seeded and de-veined
2 Sri Lanka chillies, de-seeded and de-veined
3 medium onions, diced
4 anchovy fillets
5 cloves garlic, finely minced (or 2 whole-heads of roasted garlic)
125 grams (4½ ozs) tomato paste, unsalted
1 tablespoon cumin seeds (up to 4 tablespoons add a tablespoon at a time until to your taste)
1 tablespoon smoked paprika
1 teaspoon black peppercorns, freshly crushed
½ teaspoon cayenne pepper
1 tablespoon Mexican oregano
3 bay leaves
4 cloves
1 litre (1 quart) roasted beef bone stock
2 tablespoons vegemite
2 tablespoons of sushi (or mild) vinegar
1 tablespoon of kecup manis (Sweet Indonesian soy sauce) or 1 tablespoon Oyster sauce with 1 teaspoon of sugar
10 grams (¼ cup loosely packed) soup seaweed or 4 sheets of shredded Nori sheets
2 teaspoons cocoa powder
2 tbsp Olive oil
Kosher salt and freshly ground black pepper
Directions
1. In heavy-bottomed stew pot sauté chopped onions, Chinese sausage and anchovies until the onions are golden brown and the anchovies have distinguished completely. Remove and set aside.
2. Brown cubed meat in small batches make sure you are browning the meat and not steaming listen for the sizzle that indicates browning. Remove and set aside.
3. Add fresh or (roasted) garlic sauté until aromatic. The roasted garlic will only take 2 minutes while the fresh garlic will take about 7 minutes. Remove from pan and set aside.
4. Fry briefly each side of the dried chillies in individual batches until the inside lightens in colour about 15 seconds each side. Watch carefully so they do not burn and become bitter. Remove from pan and set aside.
5. Add tomato paste and fry (stirring continuously) until very dark brown about 10-12 mins. Remove from pan and set aside.
6. De-glaze pot with 1 cup of stock make sure you dissolve the fond (the browned bits on the bottom of the pan) completely.
7. Bring the remaining stock to a boil in another saucepan add cloves and boil gently for 5 minutes then remove cloves. Add chillies, vegemite and soup seaweed to boiling stock, cover and reduce to a bare simmer for 15 minutes. Purée with an immersion blender until smooth.
8. Add chilli/vegemite/seaweed purée, meat, onion/anchovies, cocoa powder, tomato paste and garlic to Dutch oven and bring to simmer.
9. Lightly toast cumin in small pan over medium low heat for until aromatic (about 5 minutes) and golden, not browned. Grind to a fine powder in mortar and pestle or spice grinder. Add to Dutch oven.
10. Crush oregano with your hands until aromatic and add to Dutch oven. Add bay leaves, vinegar, kecup manis (or oyster sauce and sugar) and 1 teaspoon freshly ground black pepper.
11. Simmer over medium low heat for about 1 ½ to 2 hours or until meat is tender and some of the small pieces of meat are falling apart and the tendon (if using) has melted. Taste for salt and pepper. To finish, add ½ teaspoon each of crushed oregano and ground cumin and remove from heat. Cover and let sit for 15 minutes (better the next day). Serve and garnish with your favourite toppings.
12. Makes about 2½ litres (2½ quarts, about 10-11 cups) of chilli. It freezes extremely well six months.
Note: The ratio of chilli to meat is approximately 1.5 oz (45 grams) of dried chilli per pound (½ kg) of meat. A large meaty, fresh ancho might weigh up to about 0.5 oz (15 grams). A few chilli combinations to use are:
2 ancho and 3 morita per pound (½ kg) of meat
2 ancho, 1 pasilla, and 1 guajillo per pound (½ kg) of meat
Smoked Brown Chipotle sauce
or Meco (tipico) sauce (mecos=strongly smoked red jalapeños)
This is a wonderful (medium heat 4-5 on a scale of 10) chilli sauce that has a deep smoky flavour base with a light grassy spice fruit after-note. Mecos are larger and smokier than the more common morita (lightly smoked red dried jalapeño) chilli and hold up well to stronger flavours.
Ingredients
6 meco chillies (brown chipotle chilli medium heat tastes of smoked roasted hickory wood with undertones of deliciousness)
2 ancho chilli (dried poblano chilli sweet to moderate heat has a mild fruity paprika flavour, like a mild mulato chilli)
1 mulato chilli (a variety of dried poblano, which are sweeter, softer, and darker in colour than ancho chillies, low heat tastes a little like licorice, with undertones of cherry and tobacco)
1 pasillo chilli (dried chilaca chilli also called Chile Negro low heat raisin-like aroma with mild smoky flavour)
6 roasted garlic cloves
45 mls (1½ fl ozs) (3 tablespoons) sushi vinegar (or any mild vinegar)
45 mls ( 1½ fl ozs) (3 tablespoons) mild veggie stock (or water)
90 mls (3 fl ozs) (6 tablespoons) orange juice (or pineapple juice)
pinch of ground cloves
pinch of ground cumin
2 teaspoons mild honey
1 teaspoon of (dark or Dutch-processed) cocoa powder
Method
Fry the dried chillies briefly (about 15 secs each side) in olive oil. Rehydrate in barely simmering water (or stock) for 20 mins. Add the other ingredients purée with an immersion blender until smooth. Heat to nearly a boil and remove from heat. Absolutely delicious.
Mexican beans with Red Anaheim and Red Capsicum salsa stack served with Chilli-Chinese sausage cornbread
I decided to play off the different types of chillies i.e. fruity low-medium heat Mexican chillies and spicy hot Thai/Indian chillies in a blue masa cornflour tortilla stack served with a Chilli Chinese sausage corn bread. This stacked dish really contrasts this difference by having alternating layers of Mexican beans rich in Mexican chillies and a Thai/Indian chilli salsa. The cornbread is a great side dish to the stack it is an amalgam of the traditional recipe with added chillies and Chinese sausage it has a wondrous crisp crust and a great depth of flavour due to the chilli and sausage.
Mexican beans with roasted tomatillo green Anahelim chilli salsa verdes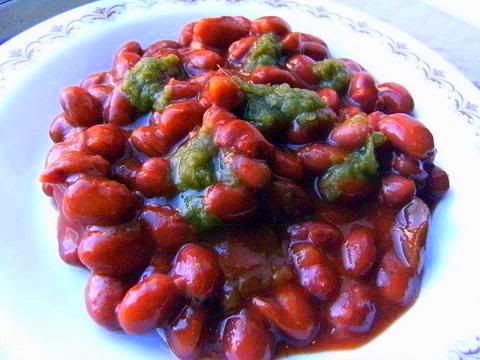 Red Thai chilli and red capsicum salsa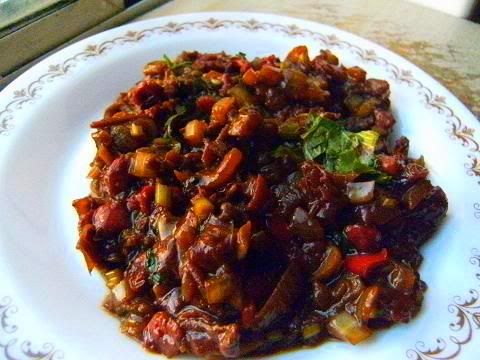 Blue masa cornflour tortillas (notice how puffed they are)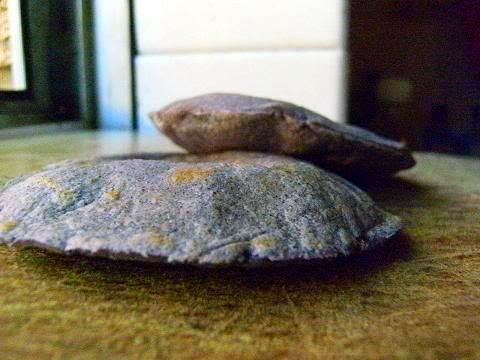 Chilli and Chinese sausage Cornbread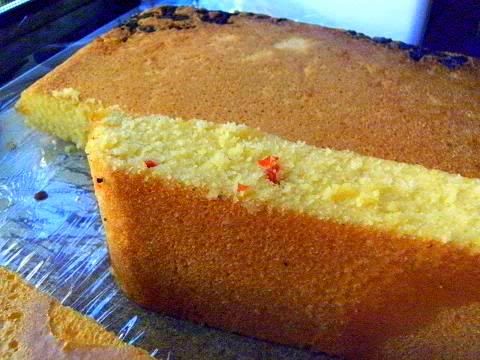 Final dish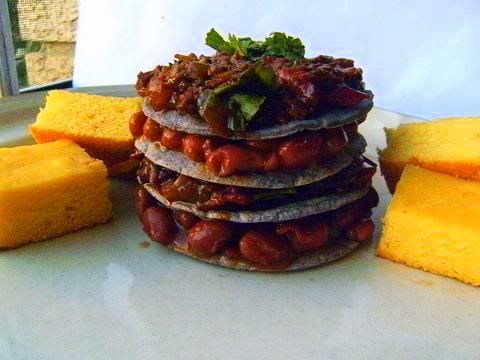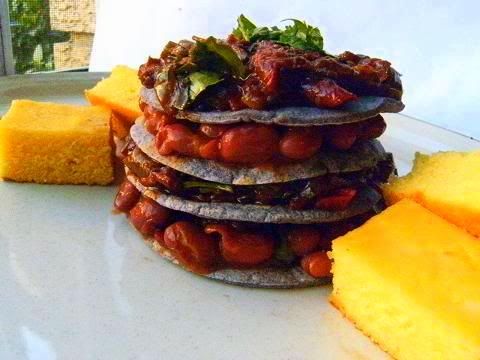 Recipes
Mexican Chilli Beans
(serves 10 people as a side dish)
Ingredients
3 cups dried red kidney beans
4 cups (1 litre or 1 quart) of roasted beef bone stock (or 4 cups of strong vegetable stock)
2 large mild (white or yellow) onions, chopped
250 grams (9 ozs) tomato paste, unsalted
3 fresh red capsicums (red bell peppers)
4 fresh green Mexican (mild to medium heat) chillies
2 fresh red Mexican (mild to medium heat) chillies
6 cloves garlic, finely chopped (or 1 whole-head garlic, roasted)
4 teaspoons smoked paprika
2 tablespoons of vegemite
salt and pepper
Method
1. Place dried beans into large pan add 9 cups of water soak overnight. The beans will expand about 2½ times.
2. Fry the onions and fresh garlic until the onions are golden. Remove and reserve.
3. Fry the tomato paste (stirring continuously) until a very dark brown colour. Remove and reserve.
4. Char-grill (fire-roast) chillies remove skins and chop finely.
5. Char-grill (fire-roast) capsicums remove skins and chop finely.
6. Drain soaked beans and place into large pot add charred-grilled red capsicums, onions, chillies, smoked paprika and garlic (or roasted garlic) and add enough stock to cover and simmer, add vegemite after 1 hour, simmer until beans are tender about 1 hour to 2 hours (depends on age of the beans). Add additional stock as needed.
Red Thai chilli and red capsicum salsa
Ingredients
1 large onion, chopped
3 cloves garlic, finely-chopped
6 semi-dried tomatoes
2 red capsicum (bell pepper), chopped
4 red Thai chillies, finely-chopped
2 red Sri Lanka chillies, finely-chopped
2 tablespoons oil, high-smoke point
1 tablespoon sushi vinegar
1 tablespoon cocoa powder
1 tablespoon catup manis
1 tablespoon instant coffee
½ bunch coriander, finely-chopped
¼ bunch mint, finely-chopped
salt and pepper
Method
Add half the onion, chillies and garlic and all of the capsicum, tomatoes to the saucepan and fry in the oil for 10-15 mins until will browned. Add the remaining ingredients and fry until warmed about 2 mins.
Chilli and Chinese sausage Cornbread
Adapted from
here
Ingredients
2 cups of cornmeal (yellow or white)
½ cup sifted flour
2 red Anaheim chillies, finely-chopped
1 Chinese sausage, chopped
1 teaspoon baking powder
1 teaspoon salt
1 egg lightly beaten
2 cups buttermilk
2 tablespoons bacon drippings or vegetable oil
Method
Preheat oven to 450 degrees.
Put the drippings or oil and sausage in a cast iron skillet and place it in the oven for a few minutes until it's sizzling.
Mix together dry ingredients. Set aside.
Whisk egg and buttermilk. Mix with dry ingredients
Take cast iron skillet out of oven, and pour hot oil into batter, and mix.
Pour batter into cast iron skillet, bake in oven for 20 minutes. Cornbread should be brown on top and pulling away from the sides of the skillet.
Mexican chicken and bean cornbread hors d'œuvre
I had a lot of leftovers from making the mexican beans with red Anaheim and red capsicum salsa stack served with chilli-Chinese sausage cornbread topped topped with roasted tomatillo green Anahelim chilli salsa verdes. So I thought I would do a quick lunch of hors d'œuvres these would be perfect for a party about 3-4 bites, they had a heat of about 4/10.
Method:
1. Cut out rounds of cornbread and fry in oil until brown and very crisp
2. Cut out rounds of cooked chicken breast to fit the cornbread
3. Assemble by topping each cornbread with salsa verdes, chicken, beans, salsa and then place a generous layer of cheese on top
4. Grill (broil) until cheese is brown and melting
5. Top with extra salsa verdes sauce
Browned cornbread
Final hors d'œuvres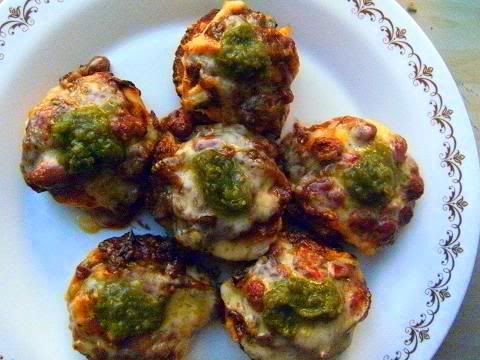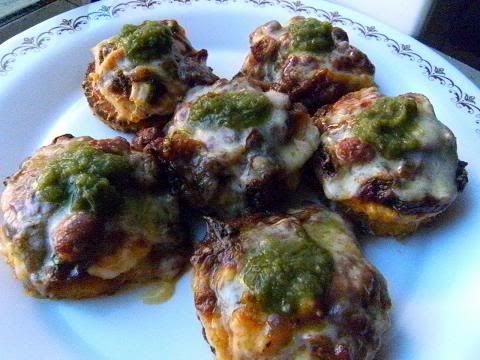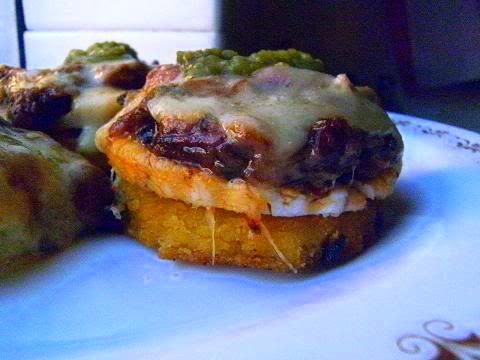 Desert cacti flower fruit dessert with a masa pancke stack
Since this is a Mexican cuisine challenge I wanted to do a sweet dessert using the fruit from two desert cacti flower's with a stack of masa corn flour pancakes. The first cactus flower is the prickly pear (also called Indian fig or
Opuntia humifusa
) the gorgeous red-neon-coloured fruit from this cactus flower provides a delicious juice that tastes like a cross between all-natural bubblegum (if indeed there is such a thing) and watermelon (see
here
how to cut and prepare it) the other cactus flower is dragon fruit (
pitaya
) again an intensely coloured fruit which tastes like very subtle kiwi fruit but the flesh texture and seeds are the real stars – the flesh has the texture of firm mousse and the seeds are very juicy and together have a delightful mouth-feel. So the two types of desert cacti flower fruits compliment each other superbly and teamed up with masa pancakes create a perfect dessert after a spicy chilli meal. This is a real eye-opener for me I never knew that the fruit of the prickly pear (considered a weed in Australia) was so delicious and so colourful. As you can see the colour is amazing and the longer you leave the stack the stronger the colour! I think the camera had trouble capturing the intensity of redness to the eye this dessert glowed redness a beautiful treat for a birthday. It tastes so so delicious it is hard to describe the combination or masa pancakes and the fruits just wondrous.
This dessert is simple to make and looks wonderful. Remove the fruit from the flowers and chop roughly add a tablespoon or two of brown sugar and 1/2 teaspoon of vanilla essence and set aside for 10 mins. The pancakes use a batter consisting of 1 part corn meal, 1 part SR flour, 1 part masa corn flour, 1/2 teaspoon salt add an egg and enough milk to form a thick batter leave for 10 mins before using.
The pancakes have that unique masa taste that pairs so well with the cactus fruit flavours also the crisp pancakes contrasts well with the soft fruit. I think if you decorated the stack with some cream and used dragon-fruit-balls on top it would be good enough for a birthday cake.
The two cactus flowers
The prickly pear - an intense red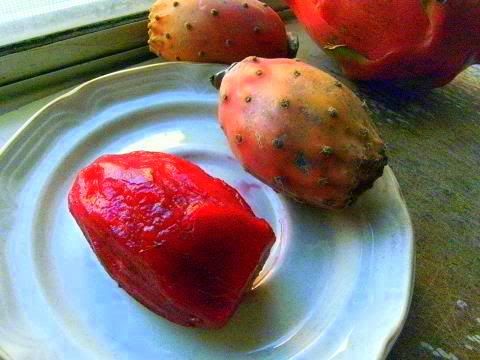 Dragon fruit - what an amazing looking fruit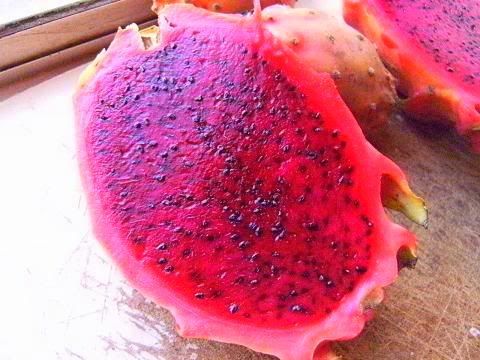 Final stack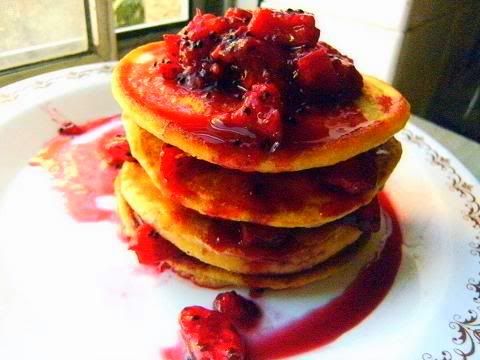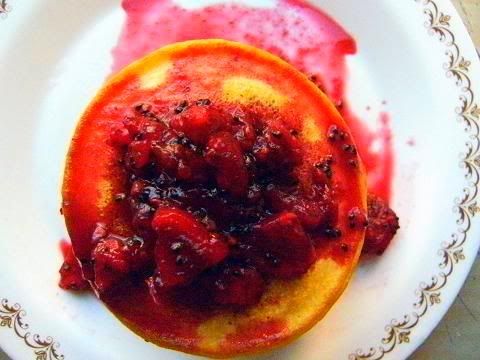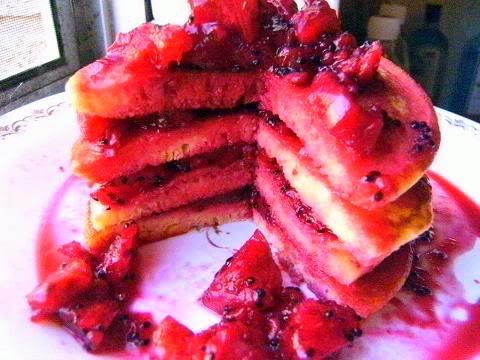 Challenge Recipe can be found
here