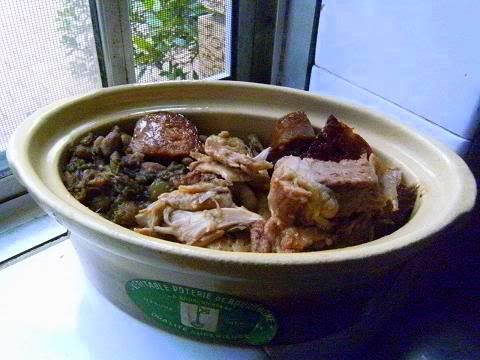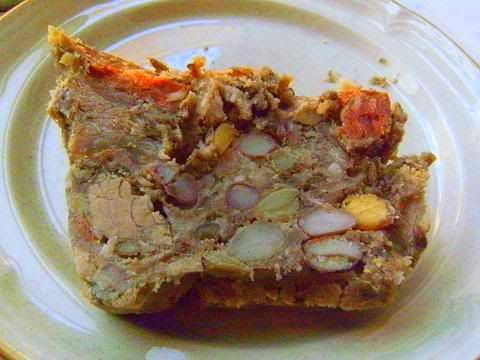 WOW this month's challenge is a French classic called
cassoulet
a delicious stew/casserole made with various confit (meat or fowl poached in fat) and beans, this is a marvellous recipe, one that can include all sorts of meats (even cured ones) and beans. Also the recipe can be made over a number days so making it an easy exercise. It can be an expensive recipe but you can make it much cheaper (but just as tasty) if you use butter or oil (instead of duck fat) to confit chicken legs (instead of duck legs) and breakfast sausages (instead of expensive sausages). I noticed that
most
of the forum members raved about this recipe and it fully deserves the praise it is so so good it is rich in flavour and because of the confit and the method to cook the final dish the beans became extra tasty and in my opinion they become the star of the dish (I noticed from the comments in the forums that many bean haters loved the beans in this dish!). So if you are a bean lover add lots more to the dish and enjoy!
Some notes about cassoulet
Cassoulet is a rich, slow cooked stew or casserole that originated in the south of France during the 14th century. It traditionally contains pork, sausages, and white beans as well as a duck or goose confit and then topped with fried bread crumbs or cracklings. The dish is named after its traditional cooking vessel, the cassole, which is a deep, round earthenware pot with slanted sides. This is a dish that traditionally takes about three days to prepare, buthttp://www.blogger.com/img/blank.gif is oh so worth all the effort!! A confit, in case you don't know, is one of the oldest ways to preserve food. It is essentially any kind of food that has been immersed in any kind of fat for both flavour and preservation. When stored in a cool place, confit can last for several months! Typicalhttp://www.blogger.com/img/blank.gifly meats (most often waterfowl) are preserved in fats, while fruits are preserved in sugar.
See
here
it is the official website for French cassoulet recipes.
See
here
for a printable PDF for the challenge recipes.
Recipe Sources
:
Cassoulet by Anthony Bourdain and Michael Ruhlman
as featured on the Travel Channel's "No Reservations"
Vegetarian Cassoulet
by Gourmet Magazine, March 2008
Thirty Minute Cassoulet
by Jacques Pepin's Fast Food My Way, KQED
Chicken Confit (Using Olive Oil)
by Emeril Lagasse, via Food Network
Garlic Confit from Saveur
, Issue #129
Leek Confit
by Molly Wizenberg, as seen in Bon Appetit
Blog Checking Lines:
Our January 2011 Challenge comes from Jenni of
The Gingered Whisk
and Lisa from
Parsley, Sage, Desserts and Line Drives
. They have challenged the Daring Cooks to learn how to make a confit and use it within the traditional French dish of Cassoulet. They have chosen a traditional recipe from Anthony Bourdain and Michael Ruhlman.
Hot spicy five bean cassoulet
Since it is so hot here in Sydney I thought I would spice up the challenge recipe a little so I used some very spicy smoke-cured hot Italian sausage and speck (a type of hot spicy prosciutto)which rendered out wonderful flavour into the dish.
What an amazing, tasty and delicious recipe this is it is the BEST tasting 'stew' that I have ever had. I decided to use smoke-cured hot spicy Italian sausage with some speck (a type of prosciutto) along with chicken legs and spare beef ribs I used butter to confit these at 60°C/140°F (the lowest temperature to safely confit meat and fowl) for 18 hours. The cured sausage and speck rendered hot spicy yumminess into the other meats that is the confit had a lovely bite to it. In the poaching challenge last month I learnt how to butter confit spare ribs so I repeated the process adding a lot of other cooked and uncooked meats.
I had some good luck in the local opportunity shop and picked up a vintage French casserole dish for only $4 so I served the cassoulet in that for four people.
I had even better luck at the butcher's everything was on special the shop was being renovated so all the stock had to be cleared I got 7 kgs of various meat for only $14!
I used five types of beans:- chickpeas, puy lentils, Lima, Northern white beans and red kidney beans I cooked these in a home made roast beef-bone stock yum yum. The beans where superb even before I put them with the confit meat.
The vintage $4 casserole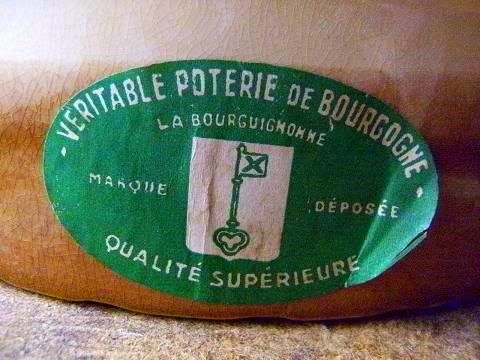 The butter confit of beef spare ribs, chicken legs, hot spicy smoked-cured Italian sausage and speck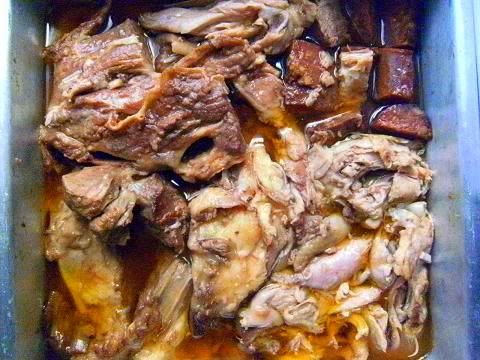 Just 1/2 of the confit meat I made about 7 kilos at once and froze the rest
The cassoulet in the vintage serving casserole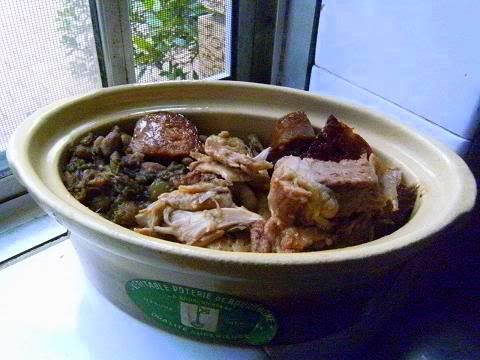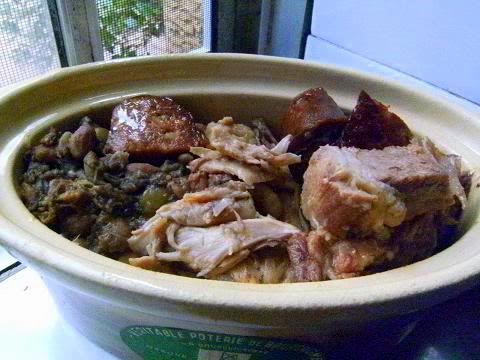 The plated cassoulet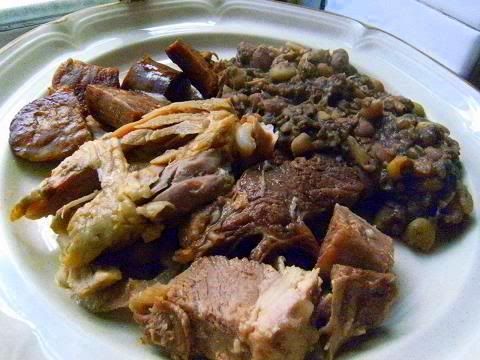 It is really hard to know what is the best part of this recipe - the spare beef ribs were tender and juicy the bite-sized hot spicy sausage and speck were a great contrast against the milder chicken, the beans were so so meaty tasting but with their own flavour when bitten into. I was extremely pleased with the result I froze about 7 1/2 litres of left overs enough for about 30 servings.
The total cost was
beef spare ribs 3kg/$5
Italian sausage and speck 2kg/$6
chicken legs 2kg/$3
new dried beans 2kg/$3 (makes about 16 cups of cooked beans)
beef bones for the stock 3kg/$2 (makes about 3 litres of thick gelatinous bone stock)
butter for the confit 2kg/$5 (reusable)
bits and pieces $2
==============
Total $26 for 34 servings even more if served with potatoes or rice
that is $0.76 per serving, an extremely cheap dish if using chicken, beef spare ribs and sausage and using butter for the confit.
Meatloaf Cassoulet
I even made meatloaf from some of the leftovers (add fresh breadcrumbs and herbs and one egg per three cups of leftover cassoulet bake at 180°C/350°F until firm about an hour) WOW it is so so tasty, notice how you can see the individual beans and pieces of various meats. This is best served hot or warm (heat in a microwave for a minute or two), slice a thick piece of meatloaf and serve with home made bread.
This is
the best meatloaf you will ever taste
it is meaty, tasty and the beans are superb.