Tempura and soba noodles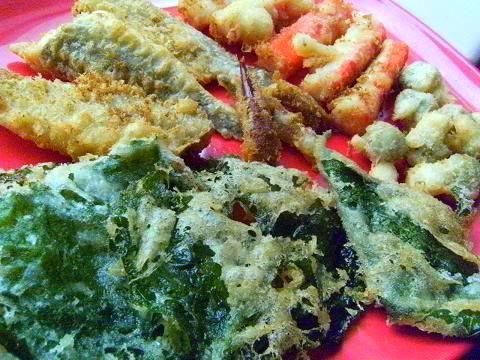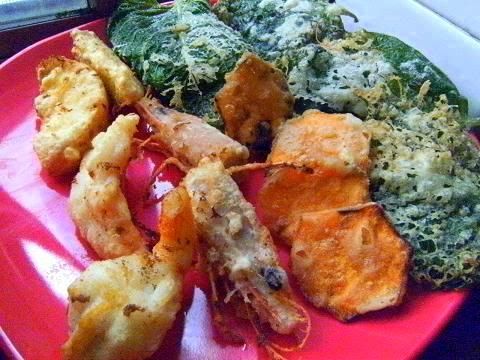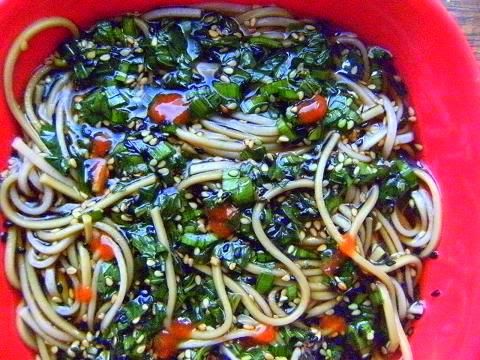 Soba is a type of thin Japanese noodle made from

buckwheat flour

. It is served either chilled with a dipping sauce, or in hot broth as a noodle soup. It takes three months for buckwheat to be ready for harvest, so it can be harvested four times a year, mainly in spring, summer, and autumn.

Hiyashi Soba is a popular dish in summer. It's like a noodle salad. Restaurants in Japan serve Hiyashi Soba only in summer. Even if you don't have much appetite because of the heat, Hiyashi Soba can be appetizing. Common Hiyashi Soba toppings are omelet strips, ham, cucumber and grated

Daikon

. You can also have the noodles just with the dipping sauce.

Tempura is a Japanese dish of seafood or vegetables that have been battered and deep fried. A light batter is made of cold water (sometimes sparklinhttp://www.blogger.com/img/blank.gifg water is used to keep the batter light and soft wheat flour (cake, pastry or all-purpose flour). Eggs, baking soda or baking powder, starch, oil, and/or spices may also be added.

From the website

acquiredflavor.blogspot.com

the information is stated.

Well... it may interest you to know that the

Portuguese

were the ones who introduced tempura to the Japanese way back in the 1500s when they landed in Japan along with establishing trade routes and bringing Catholicism. The battered seafood and vegetable dish was apparently loved so much by Tokugawa Ieyasu, founder and first shogun of the Tokugawa shogunate, that he died after eating too much tempura. I don't know if this is true as I think one would pass out before they could that!Recipe Source:

I've had many different versions of this dish so I've combined a few different recipes from around the WWW. Most notably:

Zaru Soba Noodles from About.com-Japanese Food

;

Zaru Soba from Globetrotter Diaries

;

Perfect Tempura from Pink Bites

;

Tempura from Itsy Bitsy Foodies

; and my Japanese stepmother.

Blog-checking lines: The February 2011 Daring Cooks' challenge was hosted by Lisa of Blueberry Girl. She challenged Daring Cooks to make Hiyashi Soba and Tempura. She has various sources for her challenge including japanesefood.about.com, pinkbites.com, and itsybitsyfoodies.comPosting Date:

February 14, 2011

See

here

for a PDF of the challenge.

Soba noodles and tempura

WOW this is a marvellous challenge!
Soba Noodles
I used a mixture of store-bought natural flavoured soda noodles & green tea soba noddles, I made the broth for the noddles using instant benito soup powder, tangle weed powder, sea weed paste, double deluxe soy sauce and rice-fermented mirin, I used chives/mint instead of the spring onions, I added some dark sesame oil and a mixture of flavoured (bamboo, wasabi, BBQ and teriyaki) sesame seeds and some hot chilli sauce. I chilled the noddles. OMG I never realised how good chilled soba noodles are for a hot summer's day as we having in Sydney Australia at the moment. This is the perfect lunch so easy to make and so delicious.
Tempura
I used perilla leaves, raw prawns, raw prawn heads, sweet potatoes, peaches and bananas for my tempura. I made up the batter using chilled soda water and added some ice cubes. The batter looks very thin but it is perfect to use. You really do need to dredge your ingredients in flour I forgot to do it for the first perilla leaf and the batter wouldn't stick at all. I noticed that the batter became thicker and thicker when it was used up this is because we only lightly combine the batter ingredients (I didn't want to activate the gluten in the batter so I only mixed the batter a couple of times with chop sticks) so there was a slightly heavier flour layer on the bottom of the batter bowl so if you want a thicker layer of batter on your ingredient dip right down to the bottom of the bowl so it will be coated in a thicker batter. Notice how thin the batter is on the tempura (especially on the perilla leaves which I deep fried first) remember we are not making fritters so in tempura the base ingredient will show through in places. Notice how the prawns and the fruit have a thicker tempura layer on them since at this stage I had to use the batter from the bottom of the bowl.
I was stunned how great tempura is! The perilla leaves are astounding the leaves are so tasty (they taste like a combination of basil, mint and lemon grass with a touch of apple) and with the crisp layer of tempura which makes for a total sensory overload of yumminess these were my favourite of all the tempura I made. The sweet potato are crunchy and crispy and the sweet potato flavour comes out to the forefront. The prawns and prawn heads are sweet and the skins of the prawn heads are a great contrast and the fruit are a great treat at the end of the feast the peaches are extra special (my second favourite tempura) and the banana with the crisp batter layer are so delicious and so so so good these would be great with ice cream and chocolate sauce.
Tips for tempura
1. Try to keep the oil clean at all time use a very fine sieve to strain the oil often this stops the loose cooked pieces of tempura batter from sticking onto new pieces of uncooked tempura which spoils their appearance. Remove the remnants of batter between each batch so they don't burn and leave a bad flavour in the oil.
2. I used rice bran oil I hate the strange fishy smell that canola oil has when used for deep frying.
3. Try to keep the batter layer thin and deep fry only until crisp do not brown to much if you can help it. A very light golden colour is fine.
4. Use a couple of ice cubes in the batter to keep it cold at all time. Only make the batter just before you need to use it as it becomes gluey if left for too long.
5. Test the heat of the oil by dropping in a small amount of batter. If it sizzles immediately, the oil is hot enough to use.
6. Drying on a wire rack works much better than using paper towels.
7. You can reuse the oil again cool to room temperature, strain using a very fine sieve lined with paper towels. Taste to make sure that the oil isn't flavoured too much from the deep frying. Then you can use it again (about 4-5 times) for shallow frying and deep frying, when the oil becomes cloudy discard.
Here
is a fabulous
egullet
forum thread about tempura cooking using very traditional ingredients it discusses many aspects of this challenge it even has some information about soba noodles highly recommended! It explains the difference between making tempura and making fritters. The photos are very informative.
"What colour should cooked tempura batter be?" Japanese cooks insist that tempura should have no colour (or as little as possible) when cooked and that the batter layer shouldn't evenly coat the ingredient like in a fritter i.e. your ingredient can show through in places in a tempura. The cooked batter shouldn't be bread-y and it should be crisp and not greasy in many Japanese restaurants in Sydney they serve tempura on paper boards which becomes transparent if the tempura is too greasy. See the photos in this
thread
.
"Do we use raw seafood in tempura?" the usual practice is to use green (raw) prawns (shrimp) and raw seafood BUT I have seen a number of sites that used large frozen cooked prawns with some success also crab sticks are used a lot in many places.
A key to success to tempura making is to make sure that each item to be deep-fried is dry (free from moisture on the surface) before coating with tempura batter. Use paper towels, if required. Otherwise, it will take more time to deep-fry than necessary.
Ingredients for the soba noodles
Cooked green tea soba noodles and unflavoured soba noodles
Finished chilled soba noodles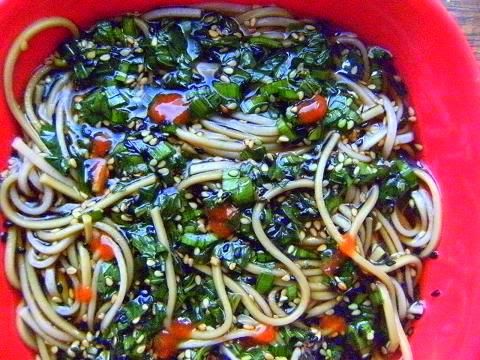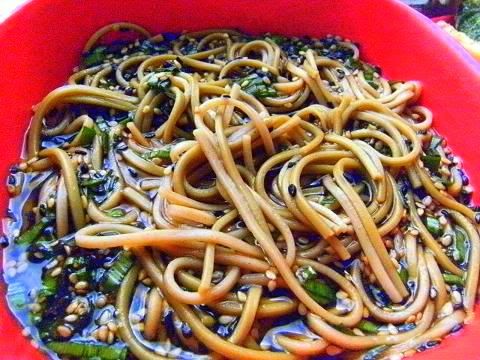 Perilla leaves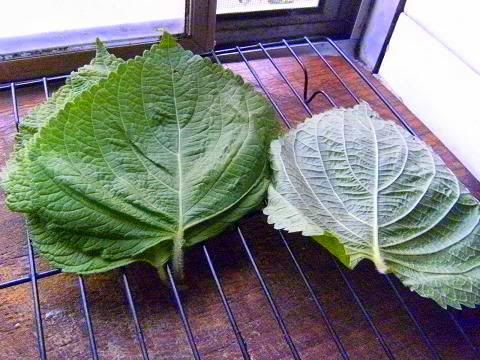 Tempura
Perilla leaves tempura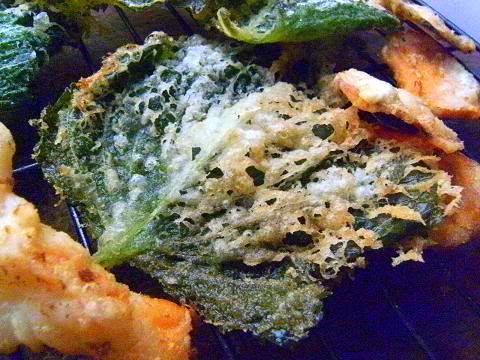 Sweet potato tempura
Prawn and prawn head tempura
Peach tempura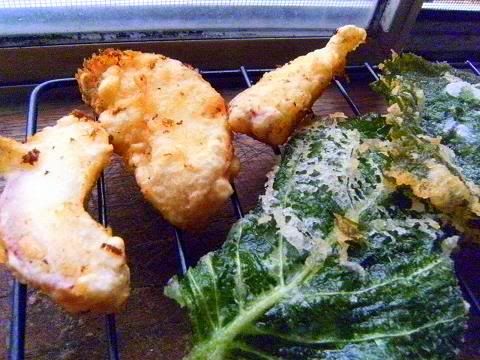 Banana tempura
Tempura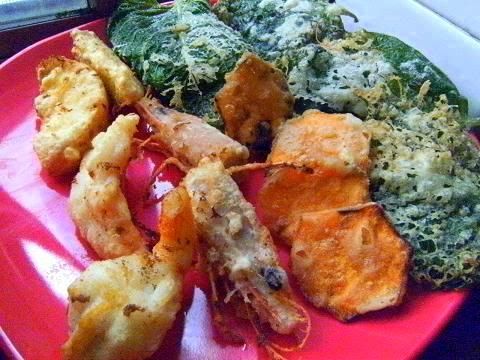 Chilled soba noodles and mixed tempura meal
Greek ingredient tempura
I wanted to make a special Valentine's day present for the neighbour she is Greek she has been so nice to me lately I decided to treat her with a lunch of tempura using her favourite Greek ingredients. She loves olives, a small fish she calls bony grouper, crab, marinated chillies and dry apple cider so that is exactly what I tempura'd I also added my favourite perilla leaves. I used the apple cider in the tempura batter I noticed that the final deep fried tempura layer was very light and crispy.
What a lovely lunch this was, I absolutely adored it, the olives and chillies were lovely salty and spicy and the bony grouper was so tender. Crab sticks and perilla leaves are a lovely combination.
Some of the ingredient
The plate of Greek ingredient tempura
Olive tempura a wonderful salty treat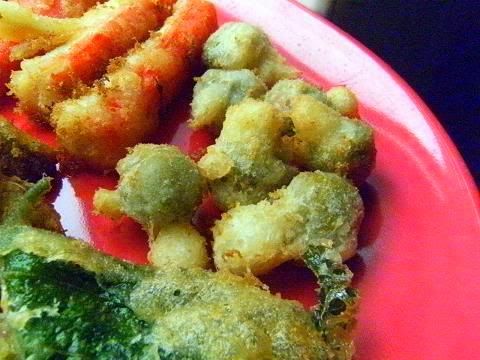 Small bony grouper tempura this was so tender and moist
Crab stick tempura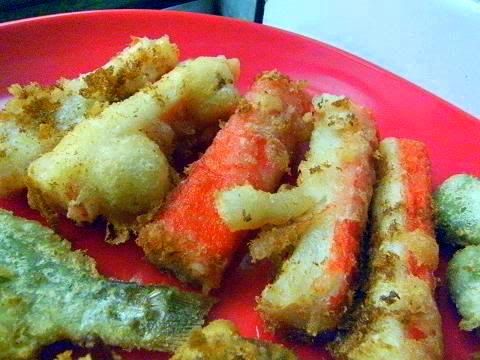 Marinated chilli tempura this was hot and spicy great with the other ingredients
Perilla leaf tempura
Final tempura plate