Spanish Seafood Rice and a lesson in chemistry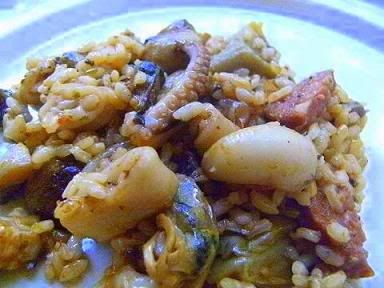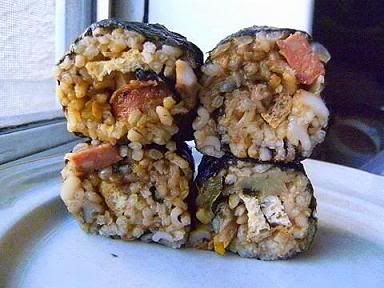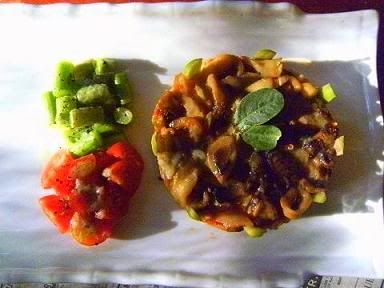 August Daring Cooks' Challenge was hosted by
Olga
from
Las Cosas de Olga
and
Olga's Recipes
she chose a delicious Spanish recipe,
Rice with mushrooms, cuttlefish and artichokes
by
José Andrés
, one of the most important Spanish Chefs at the moment. The recipe is from his US TV show
Made in Spain
. I hope you enjoy it. (Please note tips (2) and (3) at the bottom for alternative cooking). He trained under well-known
Ferran Adria
at his three Michelin star restaurant
El Bulli
. José Andrés lives now in Washington DC and he owns several restaurants in Washington DC area (El Jaleo, Zaytinya, Oyamel…).
Thank you Olga
for this month's challegene it really shows off the Spanish flair for seafood and rice.
This is one magnificent dish the first flavour you notice is the seafood taste of the rice then you get the taste of the sofregit and saffron and when you eat the dish the textures of the rice, seafood, artichokes, mushrooms just work to perfection – if you cannot get fresh artichoke use only ½ the amount of marinated artichokes since they are much stronger tasting than fresh – also I think okra a green vegetable would be very nice. The
allioli is incredibly potent
only do 1/3 cup of the recipe below (i.e. use only one clove of garlic and 1/3 cup of olive oil) and I only used about ½ teaspoon on my serving and yes it did take 23 mins to do the whole process very tedious. I did half the reveal recipe and it served 4 people for lunch with crispy bread and fruit salad as afters. I used sushi rice it was exactly right for this dish it absorbed the liquid it was creamy and held all the ingredients together and its tooth bite was a slight contrast to the other ingredients it worked very well. I added ½ tablespoon of powdered seaweed in the fish stock to increase its 'seafood' taste. Also I added some Spanish chorizo sausage it really adds a nice touch to the dish and it doesn't make the dish taste any less 'seafoody'. I used all fish stock since my guests had ethical problems with wine. Please use
fresh bay leaf
if you can it
really does make a huge difference.
Allioli
Allioli
this is very very pungent but great in small amounts. I think the final colour depends a lot on the colour of the olive oil that you use, my olive oil was very green and its taste was fruity which I think helps the final colour and taste, my three guests all liked it (in small amounts). Don't make too much. I was expecting it to be white like garlic mayo. See a full and detailed recipe with quantities below.
Ingredients for allioli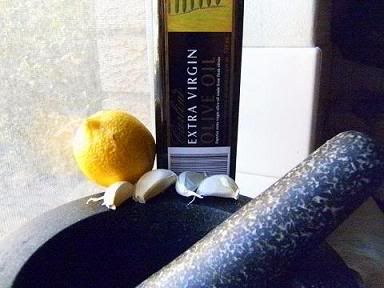 Grinding the garlic as finely as possible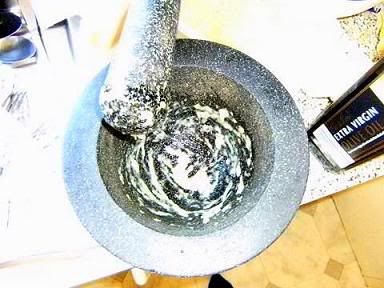 Prepared allioli
Sofregit
Sofregit
(a well cooked and fragrant sauce made of olive oil, tomatoes, garlic and onions, and may at times have different vegetables such as peppers or mushrooms) – this is wonderful (I will be making this again and again) it is so aromatic and sweet tasting I will be having the leftovers on cheese toast tomorrow. It tastes of summer very 'fruity' with a great vegetable overtone.
Ingredients for the sofregit
Cooking the sofregit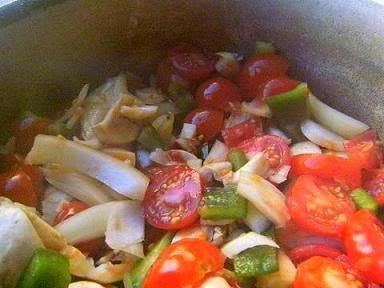 The finish sofregit
Ingredients for the
rice with mushrooms, cuttlefish and artichokes
Fresh artichokes and saffron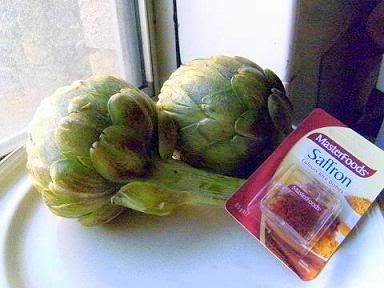 Cleaned artichokes remember to use some lemon juice to stop browning of the hearts
Rice, cuttlefish, prawns (shrimp), clams, mussels, octopus, squid, Spanish chorizo sausage , saffron, bay leaves and mushrooms.
I used about 250grams of seafood for the half recipe - this was plenty it felt generous when eating the dish. I used only one half sausage chopped again plenty. Sushi rice worked very will indeed it really absorbed all the liquid and flavour so is very tasty in the final dish.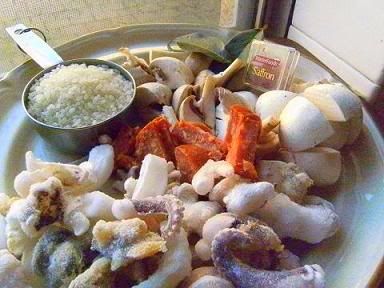 Salmon heads for fish stock
– lightly fry in olive oil add water and simmer for 30 mins - one salmon head yields 2 1/2 cups of stock, or 1 kg of fish heads gives 3-4 litres of stock. There is no need to add anything else to this fish stock since the sofregit adds the extra flavours needed to complete the final dish. I added 1/2 tablespoon 'seaweed' powder leftover from the last DC challenge to the stock also. If you simmer too long the stock will go bitter. Strain through a fine sieve discard all solids. Skim any fat off the top of the strained liquid.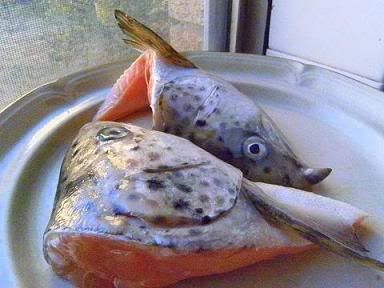 Cooking the recipe
Final dish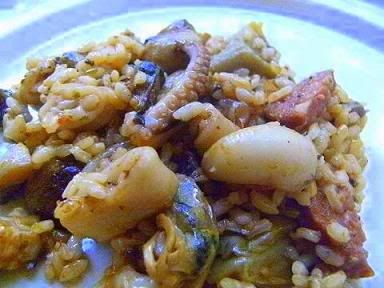 Recipe for one cup of allioli
Ingredients
3 cloves garlic – peeled
1 cup (25 cl) extra virgin olive oil – If at all possible use Catalan arbequina olive oil. Failing that, use a mild Greek or Italian extra virgin olive oil.
1 pinch salt
A few drops of lemon juice
How to prepare allioli
1.Peel the garlic cloves and cut them in half lengthwise to check if they have greenish shoots. If you see sprouts, cut them off, and discard them. Garlic sprouts make it more difficult to bind the allioli, and they make it much too hot as well. If you are sure that the garlic is very fresh, just peel the cloves, and you can begin to mash them in the mortar without cutting them in half.
2.Drop the garlic cloves in your mortar, add a pinch of salt, the lemon and start pounding with the pestle.
3.
Pound and mash the garlic and the salt with the pestle until you obtain a very fine and smooth paste
. This step is essential for binding garlic and olive oil properly with mortar and pestle. If your garlic paste is not smooth and fine enough, the allioli will tend to break much easier.
4.Now, while you stir the mixture with the pestle in one hand, start adding the olive oil very slowly, almost drop by drop, with the oil dispenser that you hold in the other hand.
5.Stir constantly and always in the same direction, describing circular movements, until you obtain a thick paste. In the picture, you can see the texture of an authentic allioli in Catalan style.
For vegans
I found squid flavoured tofu the packaging says vegetarian but it's only made of spiced tofu and yes it does taste like squid.
Costs about $4.18 per serve for lunch - I could of saved $1 per serve if I had left out the artichoke and replaced it with asparagus which was on special only 10c per bunch. I think asparagus would go well with this dish.
Spanish seafood allioli nori rolls
I made another batch of seafood rice this morning but we decided to go on a picnic since the weather was so nice. What to do with the cooked seafood rice dish? I made nori rolls. To the cooled dish I added some deep fried squid tofu, a lot of allioli, and a touch of the following ingredients oyster sauce, seaweed powder, wasabi power and lemon powder then I wrapped them in nori sheets. They are surprising good as nori rolls. We had a great time on Sydney Harbour looking at the sailing ships and walking across the bridge. Great picnic food very tasty and the rolls had a real kick to them which was great on a clear sunny winter's day on the harbour. You can have a lot more allioli in the cold dish then in the hot dish.
Wrapping Spanish seafood rice with allioli in nori sheets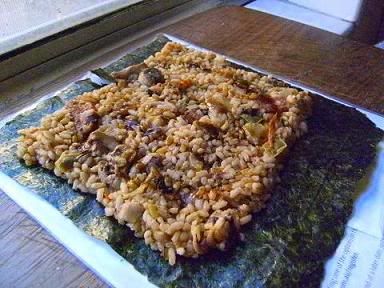 Formed Spanish seafood allioli nori rolls.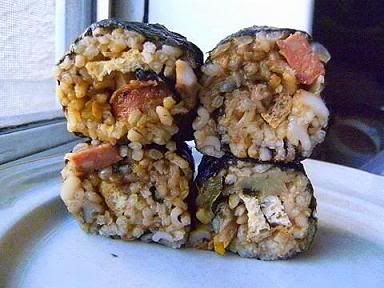 The Chemistry Lesson
One of the Daring Cooks' msmflo
said "Your sushi rolls are such a wonderful idea!" and "I am posting because for the life of me, it got me boggled why your allioli is dark green in colour when its suppose to be a creamy off white. The chemist in me meant that I must get an answer for it lol. I spend the day rifling through my chemistry books and I think the answer lies in the oil and the garlic that you use as compared to the other participants uses.
You are using extra virgin olive oil. Is that a first pressed /cold pressed extra virgin oil? Is it really dark in colour (yes I think you mentioned it was really green)? May I know what kind of olive oil are you using? Is it just normal olive oil which is light in colour or is it dark green as well?
Cold pressed/first pressed extra virgin oil actually contains a large amount of chlorophyll in it. nd i think that is what causes the allioli to turn green in colour as when you grind it. also note that garlic contain sulphur compounds which can react with copper to form copper sulphate, (blue/blue-green/aquamarine). This enzyme that changes the colour of garlic only happens to raw garlic as heat destroys the enzyme that's why cooked garlic would not turn blue and green. Still, the grinding of the garlic is an effective way of breaking the garlic's internal membranes and mixing with the cells chemicals that when react together with an acidic catalyst (in this case is the citric acid of the lemon) to create the green pigment. From the microchemical journal, it is stated that "The dependency of the trace elemental content of olive oils is dependent on their geographical region" and traces of copper can be found in extra virgin olive oil. although it is quite minute (about 1.5 microgram).
So that's why the aioli was green? I need answers."
I answered
Yes Ma! Here are your answers. Girl I just love your questions - yes I just looked at the very very expensive bottle of olive oil I used and YES it is I quote "
a first and cold pressed extra virgin olive oil that is grown in the mineral [i.e. copper] rich soils of South Australia using an ancient wooden oilve press imported from the old country so retaining large amounts of the green chlorophyll found in olives hence its vivid colour and depth of fruity taste
". And it is the strongest green colour it is great on bread. Also the garlic was from friends in the Hunter Valley (a wine growing region close to Sydney) with Grey Dermosol type soil with a well structured B2 horizon containing low levels of free iron. The parent materials of dermosols range from siliceous, intermediate to mafic in composition. Also in these soils decreased iron availability increases copper and sulphur uptake by plants...like garlic for example.....
You are one clever cookie well done bravo I like smarties. Now everybody knows - what low iron garlic and high copper olive oil with high chlorophyll gives - green allioli LOL LOL
I will try it again without the lemon juice (i.e. the citric acid) and see what happens.
I made the allioli using no lemon juice to compare the colours, my olive oil is a very green colour. I used the same garlic in both batches.
Left side made with lemon and the right side made without lemon.
As you can see the colour difference is huge even without lemon juice it still is yellow-green. Thanks for the chemical analysis and chemistry lesson
msmflo.
Here endth the lesson
I had a late afternoon BBQ for some very close friends and mates. I made another batch but I decided to plate it in a more dramatic manner. Sorry for the harsh shadows but the available lighting wasn't the best of photos. I made the rice dish a bit drier so I could mould it using an old tuna-fish can (never throw them away they are great of several purposes). I used cooked asparagus shavings on the side of the moulded rice seafood. I used the allioli with some white wine vinegar as a dressing (which makes it more runny than normal) on the cherry tomatoes, cut asparagus and seafood rice. Simple plating and so yummy, I love this dish very easy and tasty. And it's cheap so long as you use seasonal fish and veges.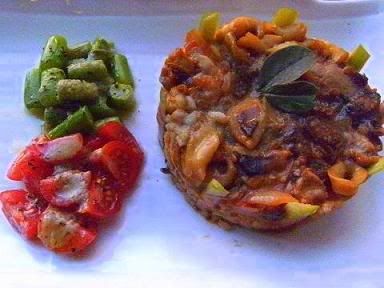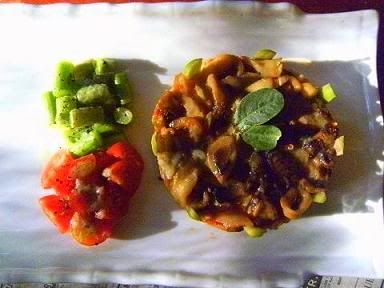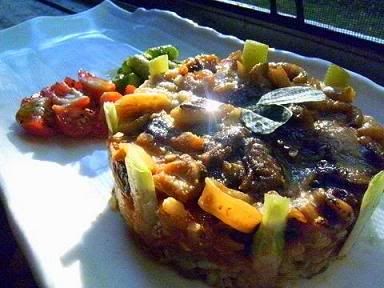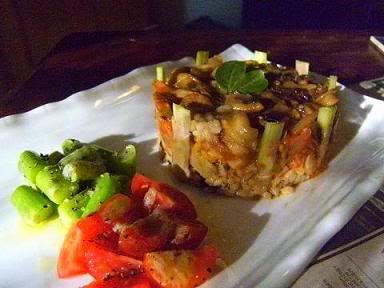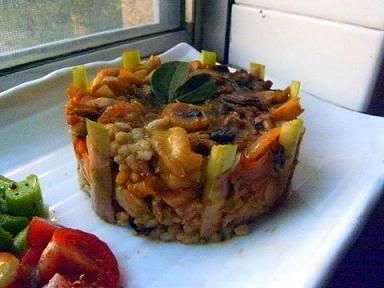 The dessert was a wild cherry marshmallow swirl roll with cream and wild cherry jam. The pink marshmallow is cherry flavour the white is vanilla. I have never made this before and it worked out well I thought. The design was based on something I saw in a bakery in Sydney which looked so cute. Just concocted (no recipe) at the last moment since I was making something else that needed marshmallow and wild cherry and I had spare ingredients.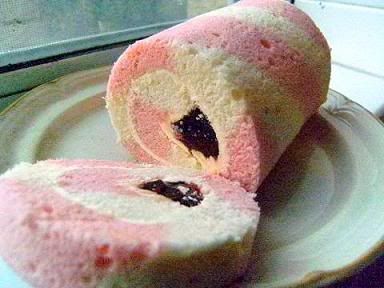 Rice with mushrooms, cuttlefish and artichokes
Cooking time: 45 minutes
Equipment:
1 Chopping Board
1 knife
1 medium saucepan
1 Paella pan (30 cm/11" is enough for 4 people. If not available, you may use a simple pan that size)
1 Saucepan
Ingredients (serves 4):
4 Artichokes (you can use jarred or freezed if fresh are not available)
12 Mushrooms (button or Portobello)
1 or 2 Bay leaves (optional but highly recommended)
1 glass of white wine
2 Cuttlefish (you can use freezed cuttlefish or squid if you don't find it fresh)
"Sofregit"
(see recipe below)
300 gr (2 cups) Short grain rice (Spanish types Calasparra or Montsant are preferred, but you can choose any other short grain. This kind of rice absorbs flavor very well) – about 75 gr per person ( ½ cup per person) Please read this for more info on suitable rices.
Water or Fish Stock (use 1 ½ cup of liquid per ½ cup of rice)
Saffron threads (if you can't find it or afford to buy it, you can substitute it for turmeric or yellow coloring powder)
Allioli (olive oil and garlic sauce, similar to mayonnaise sauce) - optional
Directions:
1.Cut the cuttlefish in little strips.
2.Add 1 or 2 tablespoon of olive oil in a frying pan and put the cuttlefish in the pan.
3.If you use fresh artichokes, clean them as shown in the video in tip #7. Cut artichokes in eights.
4.Clean the mushrooms and cut them in fourths.
5.Add a bay leaf to the cuttlefish and add also the artichokes and the mushrooms.
6.Sauté until we get a golden color in the artichokes.
7.Put a touch of white wine so all the solids in the bottom of the get mixed, getting a more flavorful dish.
8.Add a couple or three tablespoons of sofregit and mix to make sure everything gets impregnated with the sofregit.
9.Add all the liquid and bring it to boil.
10.Add all the rice. Let boil for about 5 minutes in heavy heat.
11.Add some saffron thread to enrich the dish with its flavor and color. Stir a little bit so the rice and the other ingredients get the entire flavor. If you're using turmeric or yellow coloring, use only 1/4 teaspoon.
12.Turn to low heat and boil for another 8 minutes (or until rice is a little softer than "al dente")
13.Put the pan away from heat and let the rice stand a couple of minutes.
Sofregit
(a well cooked and fragrant sauce made of olive oil, tomatoes, garlic and onions, and may at times different vegetables such as peppers or mushrooms)-
Cooking time: aprox. 1 hour
Ingredients:
2 tablespoons of olive oil
5 big red ripe tomatoes, chopped
2 small onions, chopped
1 green pepper, chopped (optional)
4 or 5 garlic cloves, chopped
1 cup of button or Portobello mushrooms, chopped (optional)
1 Bay leaf
Salt
Touch of ground cumin
Touch of dried oregano
Directions:
1.Put all the ingredients together in a frying pan and sauté slowly until all vegetables are soft.
2.Taste and salt if necessary (maybe it's not!)
Allioli
is the optional part of the recipe. You must choose one of the two recipes given, even though I highly recommend you to try traditional one. Allioli is served together with the rice and it gives a very nice taste
Allioli (Traditional recipe)
Cooking time: 20 min aprox.
Ingredients:
4 garlic cloves, peeled
Pinch of salt
Fresh lemon juice (some drops)
Extra-virgin olive oil (Spanish preferred but not essential)
Directions:
1.Place the garlic in a mortar along with the salt.
2.Using a pestle, smash the garlic cloves to a smooth paste. (The salt stops the garlic from slipping at the bottom of the mortar as you pound it down.)
3.Add the lemon juice to the garlic.
4.Drop by drop; pour the olive oil into the mortar slowly as you continue to crush the paste with your pestle.
5.Keep turning your pestle in a slow, continuous circular motion in the mortar. The drip needs to be slow and steady. Make sure the paste soaks up the olive oil as you go.
6.Keep adding the oil, drop by drop, until you have the consistency of a very thick mayonnaise. If your allioli gets too dense, add water to thin it out. This takes time—around 20 minutes of slow motion around the mortar—to create a dense, rich sauce.
José's tips for traditional recipe: It's hard to think that, when you start crushing the garlic, it will ever turn into something as dense and smooth as allioli. But don't give up. It's worth the extra time and effort to see the oil and garlic come together before your eyes. Just make sure you're adding the olive oil slowly, drop by drop. Keep moving the pestle around the mortar in a circular motion and keep dreaming of the thick, creamy sauce at the end of it all.
Allioli a la moderna (Modern recipe)
Cooking time: 3-4 minutes
Ingredients:
1 small egg
1 cup extra-virgin olive oil (as above, Spanish oil is highly recommended)
1 garlic clove, peeled
1 Tbs. Spanish Sherry vinegar or lemon juice (if Sherry vinegar is not available, use can use cider or white vinegar)
Salt to taste
Directions:
1.Break the egg into a mixing bowl.
2.Add 2 tablespoons of the olive oil and the garlic cloves, along with the vinegar or lemon juice.
3.Using a hand blender, start mixing at high speed until the garlic is fully pureed into a loose paste.
4.Little by little, add what's left of the olive oil as you continue blending.
5.If the mixture appears too thick as you begin pouring the oil, add 1 teaspoon of water to loosen the sauce.
6.Continue adding the oil and blending until you have a rich, creamy allioli.
7.The sauce will be a lovely yellow color.
8.Add salt to taste.
José's tips for modern recipe:
(1) If you do not have access to a hand blender, you can use a hand mixer (the kind with the two beaters) or a food processor. If you use a food processor, you must double the recipe or the amount will be too little for the blades to catch and emulsify.
(2) What happens if the oil and egg separate? Don't throw it out. You can do two things. One is to whisk it and use it as a side sauce for a fish or vegetable. But if you want to rescue the allioli, take 1 tablespoon of lukewarm water in another beaker and start adding to the mix little by little. Blend it again until you create the creamy sauce you wanted.
Olga's Tips:
(1) In Spain, rice is not stirred as often as it is when cooking Italian risotto. You must stir it once or twice maximum. This tip is valid for all Spanish rice dishes like paella, arròs negre, arròs a banda…
(2) When cooking the alternative style you can change the cuttlefish or squid for diced potato.
(3) If you can't find cuttlefish or squid, or you're not able to eat them because of allergies, you can try to substitute them for chicken or vegetables at your choice.
(4) Sofregit can be done in advance. You can keep it in the fridge or even freeze it.
(5) For more information on how to clean and remove the heart of artichokes, please watch this video
(6) To watch how Jose Andres cooks this dish click here.
(7) For more information on how to clean and remove the heart of artichokes, please watch this video
(8) To tone down the taste when you do it by hand in a mortar, then add an egg yolk. If you want to tone it down in the alternative way use milk or soy milk. Anyway, the best alternative way is the original oil and garlic alone.
(9) Allioli must be consumed during the preparation day and preserved in the fridge before using it.
(10) For help on conversion on metric to imperial, visit this page.