Stuffed and rolled leaves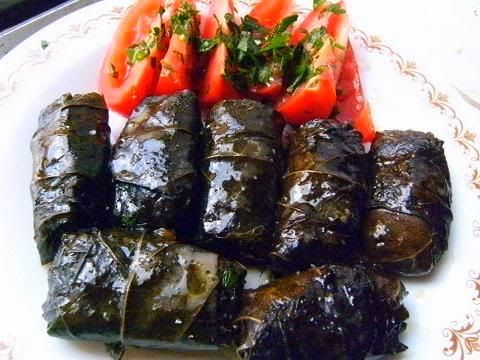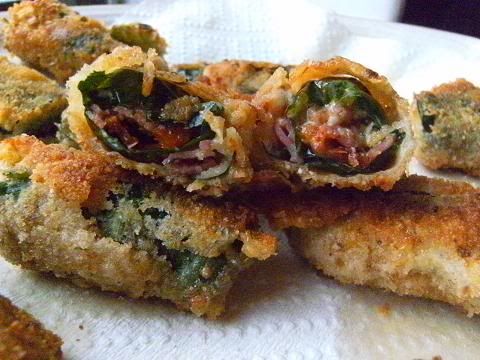 This month's Daring Cooks' challenge was to roll leaves (grape, cabbage or kale) and stuff them.
Our host for this month was Lori of Lori's
Lipsmacking Goodness
What an enjoyable challenge I tried three version of stuffed leaves, grape, cabbage and perilla. I loved all of them, the cabbage leaves were a childhood recipe that my mum made, the grape (vine) leaves were dolmades and the perilla leaves were tasty bite-sized deep-fried morsels.
Recipe Source: I have chosen two recipes for October. One of the recipes comes from Aromas of Aleppo written by Poopa Dweck and Michael J. Cohen. The other is from Claudia Roden's, The New Book of Middle Eastern Food.
Blog-checking lines: Our October 2010 hostess, Lori of Lori's Lipsmacking Goodness, has challenged The Daring Cooks to stuff grape leaves. Lori chose a recipe from Aromas of Aleppo and a recipe from The New Book of Middle Eastern Food.
Download the printable pdf file
HERE
Stuffed Grape leaves with lamb, feta cheese, pomegranate molasses and sumac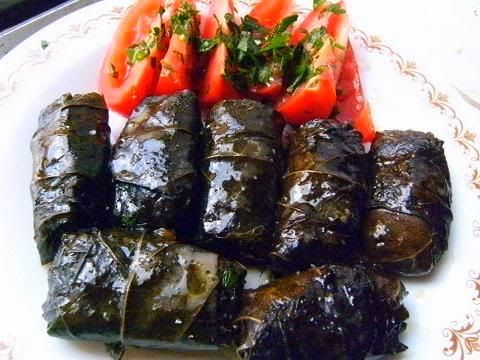 What a time consuming challenge (3½ hours for 120 dolmades) but so so worth it. I decided to "jazz" up the second recipe using lamb, loads of dill, mint and other herbs, semi-dried tomatoes, pistachios, preserved lemon and pomegranate molasses. I cooked 62 dolmades and froze the other 58 (uncooked).
I had a jar of preserved lemons (from another Daring Cooks' challenge) so I used the peel of one preserved lemon instead of the juice one lemon, also I used pomegranate molasses, pistachio and sumac (which has a lemon taste great on salads and meat) to impart a Middle Eastern flavour profile to the dolmades.
About preserved grape leaves
1. A 600 gram (21 oz) jar of preserved grape (vine) leaves contains about 65 good leaves and about 15 torn or small leaves.
2. Soak the leaves in boiling water for 30 minutes to soften them and then rinse them in fresh cold water several times. This is most important since the brining liquid is very salty and if the leaves are not rinsed with fresh water they will have gritty grains of salt in them yuck yuck.
3. Make sure the vein side is up (notice the raised veins on the leaf) and then fill them so the smooth shiny side is showing on the completed dolmade.
When layering the dolmades for poaching make the alternating layers run at different angles to each other so that the water can circulate more freely. Do not have more than 3 or 4 layers because the bottom layer will be ready before the top-most layer.
I used a steamer plate with a water-filled bowl to keep the dolmades from unravelling.
Make absolutely sure that the amount of liquid only goes up ¾ way up the dolmades since they will give off some liquid. If you have extra poaching liquid freeze and use again when you are making the second batch these dolmades will be even better than the first batch since the poaching liquid will be highly flavoured.
I cooled the dolmades for an hour and am storing them in the fridge overnight since most of the web-sites suggest that overnight storage will improve the final taste of the stuffed-grape-leaves.
I eat a few of the dolmades after cooling they are great, looking forward to the result tomorrow. Notice how the rice has swelled, using risotto rice gives a great look to filling.
Some of the ingredients for the Middle Eastern filling
The stems of the herbs are used as the lining of the poaching pot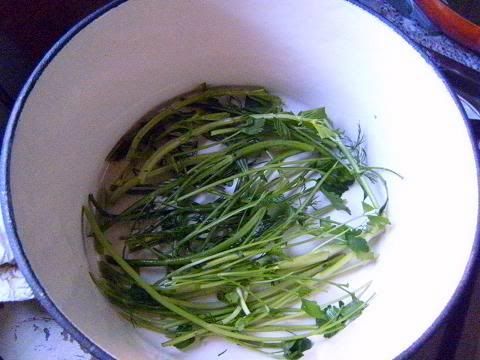 The preserved grape leaves soaking
Some of the 120 dolmades I rolled
The layered dolmades in the saucepan
How I weighed down the dolmades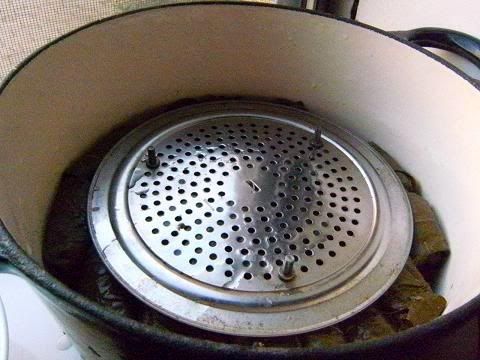 The interior of the dolmades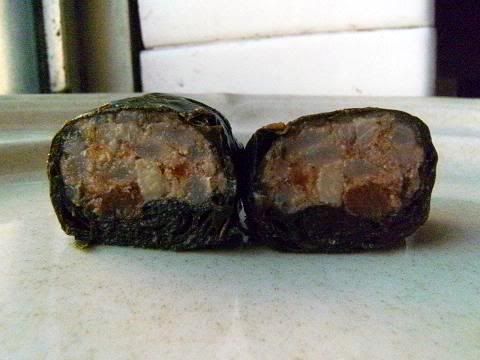 Below is the recipe in full
Stuffed Grape leaves with lamb, feta cheese, pomegranate molasses and sumac
Makes about 120 dolmades
Grapes Leaves
2 jars (600 gm/21 ozs each) preserved grape (vine) leaves, soaked in hot water 30 minutes and rinsed in fresh cold water several times
Meat and rice filling
1 lb (455 gm) minced lamb
1/3 cup (80 ml) (2⅓ oz) (65 gm) small grained rice like risotto (Arborio), soaked in hot (no salt) lamb stock for 30 minutes
Middle Eastern filling
100 gm (3½ oz) feta (Greek-style) cheese, finely crumbed
¼ cup (60 ml) (1½ oz) (45 gm) raisins
20 semi-dried tomatoes packed in oil, chopped, reserve 3 tablespoons of the oil
¼ cup (60 ml) (1⅓ oz) (40 gm) pistachios, toasted and chopped
1 preserved lemon, flesh removed and rind finely chopped
½ cup mint leaves, finely chopped, reserve the stems
½ cup dill tips, finely chopped, reserve the stems
½ cup parsley leaves, finely chopped, reserve the stems
½ cup chives, finely chopped
½ cup green (spring) onions (scallions), finely chopped
½ cup tarragon, finely chopped
6 cloves garlic, minced
12 olives, finely chopped
2 tablespoons pomegranate molasses
1 tablespoon sumac
2 teaspoons cinnamon, freshly ground
2 teaspoons pepper, freshly cracked
1½ teaspoon allspice
Poaching liquid and saucepan lining ingredients
Stems of the herbs and the torn and small grape leaves for lining the base of saucepan
Juice and zest from one lemon
½ cup olive oil
3 tablespoons of reserved oil from the semi-dried tomatoes
½ cup water or lamb stock (maybe less)
(Use the lining ingredients first, layer the dolmades in the saucepan, then add the lemon juice, olive oil, semi-dried tomato oil and then enough water to fill the saucepan to ¾ of the way up.)
(You can use browned lamb bones to line the base of the saucepan if you wish)
The cost for each dolmade was 16½ cents, so for 120 dolmades the total cost was $19.80. In the local shop non-meat dolmades (which aren't that good really I have to admit very bland) are $2 for ten so are 20 cents each, their meat-filled dolmades (only adequate) are $4 for ten so are 40 cents each.
Dolmades with lamb, feta cheese, pomegranate molasses and sumac
After storage for a day I thought I would serve them as an appetiser with avgolemono sauce for lunch. The lemon-egg sauce really adds that final touch to make them super delicious.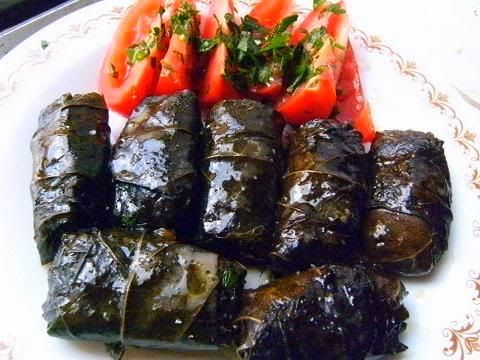 Cut section of the dolmades
I thought I would post a couple of recipes for avgolemono sauce
(Avgolemono) Lemon Egg Sauce
(uncooked version)
This is the secret to dolmades! Whisk the juice of 1-1/2 lemon and 2 egg yolks until combined. While whisking quickly, slowly add 1 cup liquid from dolmades to the lemon-egg yolk mixture. Whisk egg whites until frothy. Add frothed egg whites and combine. Pour mixture over warm dolmades and serve. This will make your dolmades perfect!
Avgolemono Roux Sauce
Melt two tablespoons of butter.
Add two tablespoons of flour to it and whisk to make a roux.
In a sauce pan over medium heat warm up one cup of lamb or chicken stock or the broth from the poaching saucepan.
In a bowl whisk together until frothy:
The juice of one lemon.
Two eggs.
A splash of water.
Add the roux to the stock and whisk to combine. Add the lemon-egg mixture to the sauce and continue to whisk until thick. Do not boil the sauce.
Finnish Cabbage Rolls (Kaalikääryleet)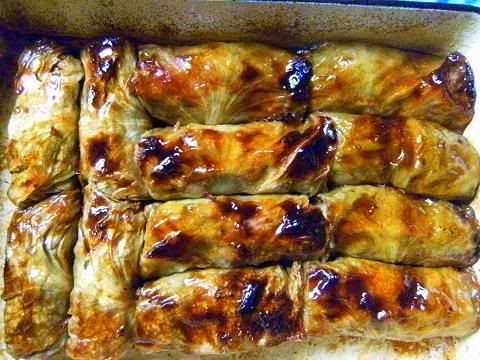 Cabbage rolls are one of those foods that exist in one version or another all over the planet, but my favourite are the one's that my Finnish mother made me. Here's the recipe.
Warning
This is not fast food. It takes at least 4 hours to prepare and cook the rolls, and you have to stick around nearby to keep an eye on them. However, you can make a big batch at once (this recipe serves 4 to 6) and
the taste and texture actually improve if reheated
, and it is recommended that you do store them for a day or two and then reheat. Finnish cabbage rolls freeze beautifully, thaw overnight in the fridge and reheat in a preheated oven set at moderate 350°F/180°C/gas mark 4 for about 20 minutes with a couple of tablespoons of water in the bottom. Or microwave for about 10 minutes turning the rolls once during this time.
Kaalikääryleet
Ingredients: Rolls
1 large head of cabbage
Ingredients: Filling
1 pound (455 gm) ground beef (you can use a mixture of veal and pork if you wish)
1/2 cup rice, uncooked
3/4 cup beef broth
1 onion, diced
1 large egg, lightly beaten
1 teaspoon dried marjoram, crushed (optional)
1 teaspoon white pepper
1 teaspoon salt
Ingredients: Basting
1 tablespoon molasses (or golden syrup or strong honey)
1-2 tablespoons butter
1/2 teaspoon salt
1/4 cup water
Instructions
1. Cook rice in the broth this makes about 1½ cups of cooked rice.
2. Sauté chopped onions until translucent.
3. Remove the core of the cabbage using a serrated knife. Boil cabbage head in lightly salted water until leaves become translucent, about 10 minutes. Use tongs to rotate the head of cabbage so you have even cooking.
4. Carefully peel off about 15 of the large outer leaves, one at a time, by cutting the thick leaf stem. The inner leaves cook more slowly, you may find it useful to remove only a few leaves at a time and let the rest cook while preparing rolls. Make sure that the leaves are soft and all the leaves have the same degree of doneness. If the cabbage leaves aren't boiled enough they will never soften enough in the baking process.
5. Shave off the protruding thick stem on the "outer" side of each leaf; this makes wrapping much easier.
6. Prepare filling by mixing the cooked rice with the raw meat, sautéed onion, egg, optional marjoram, salt and pepper.
7. To make each roll, place about 2-3 tablespoons of filling near the stem end, fold end on top, wrap the sides and roll. Make sure all the rolls are the same size.
8. Preheat oven to very hot 480°F/250°C/gas mark 9¼ or as hot as the oven can go.
9. Place the filled cabbage rolls seam side down in a tight even layer on a well greased shallow baking dish. Sprinkle rolls with salt and pour a thin lattice of molasses on top. Dot rolls with tiny lumps of butter. Pour the water into the bottom of the pan.
10. Bake for 30 minutes (check occasionally during this time that the rolls are not burning on the bottom) then reduce the temperature to moderate 350°F/180°C/gas mark 4.
11. Bake about 1½ to 2 hours check every 30 minutes the cabbage rolls will brown on top during this time. Spoon some pan juice atop the rolls every now and then; add more water or molasses if they dry up too much. In the last 30 minutes remove most of the excess liquid in the baking pan and reduce in a small saucepan until it coats the back of a spoon (like thin honey) ladle a tablespoon or so over the cabbage rolls a couple of times in the last 30 minutes. Constantly check the rolls at this stage since they can burn on the bottom if the pan juices dry out. The reduced pan juices (mainly molasses, butter and salt) are supposed to soak into the cabbage and turn the top of each roll a nice glistening dark brown. Do not confuse this with the cabbage drying out and burning.
12. Turn off oven and let them sit there and soak up the pan juices for an hour or two.
Serving suggestions
Serve as a main course, with boiled potatoes and lingonberry/cranberry preserves to provide a tart contrast.
Freeze any leftovers and reheat when you feel like it. A single small, juicy roll is also quite usable as an appetiser.
Ingredients cabbage leaves – remove outer green leaves and core the cabbage
Ingredients filling – minced meat, cooked rice, onion, one egg, salt and pepper
Ingredients basting – golden syrup, butter and salt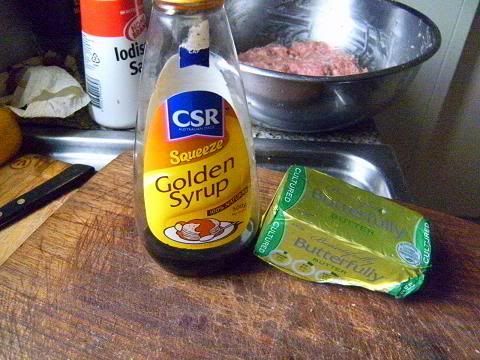 Unmixed filling mixture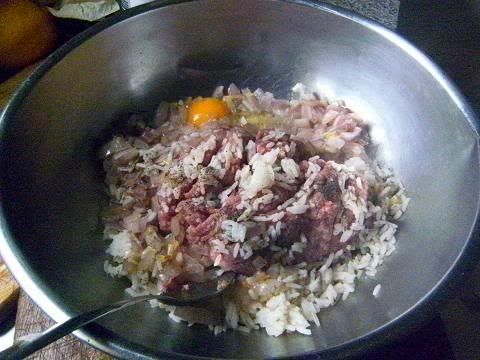 Mixed filling mixture
Boil the cabbage and remove leaves when they are soft and pliable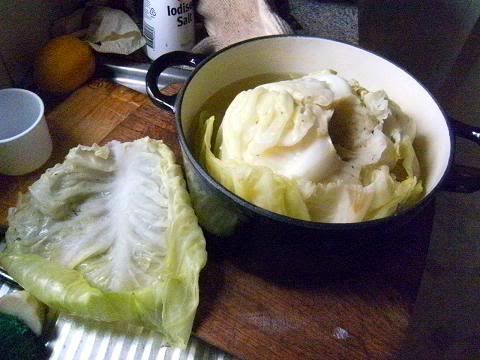 How to roll a cabbage roll
Roll out cabbage leaf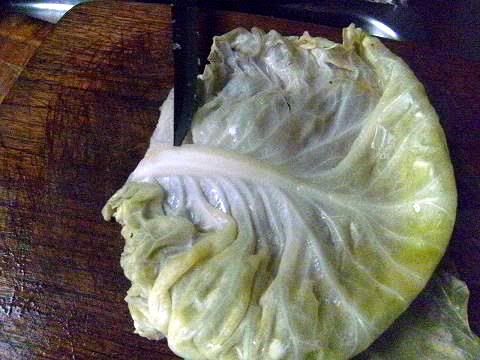 Shave off the protruding thick stem on the "outer" side of each leaf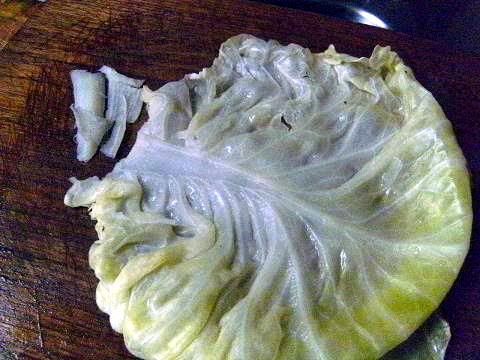 Filling and rolling the cabbage roll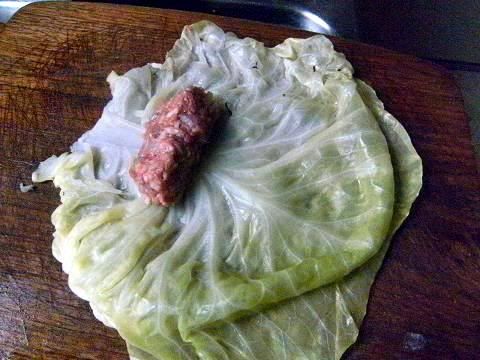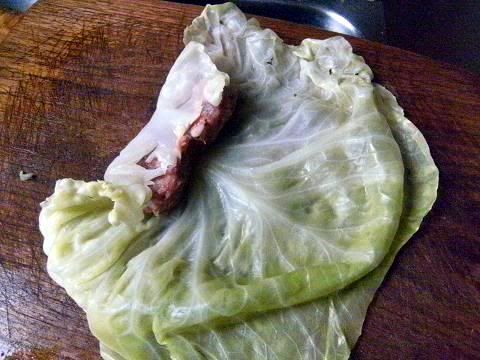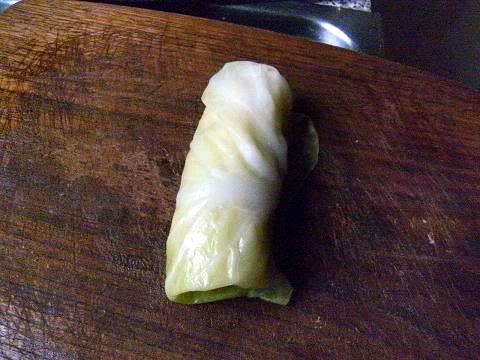 Line the baking pan with the filled rolls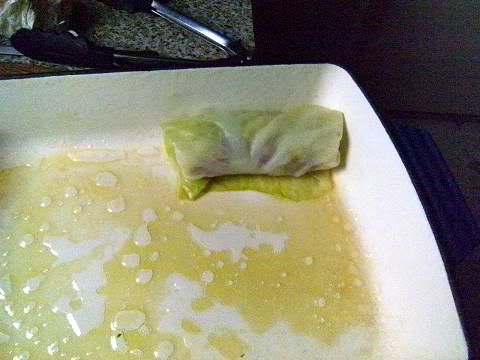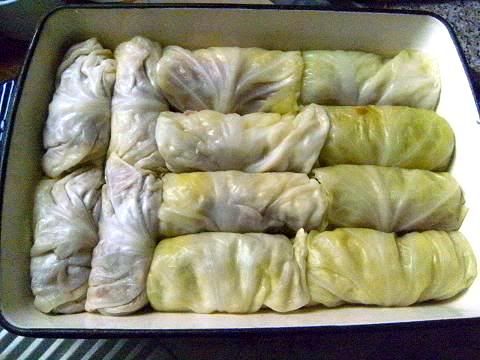 The left-over ingredients; the innermost centre of the cabbage and a small amount of filling, perfect for making cabbage soup.
Unbaked dish glazed with golden syrup and dotted with butter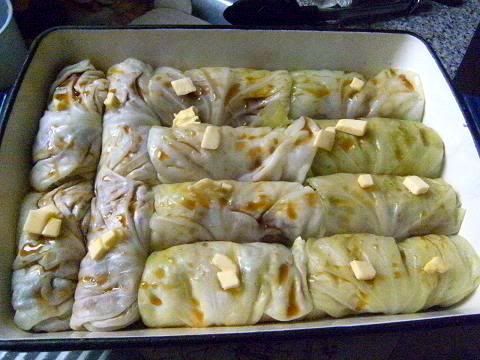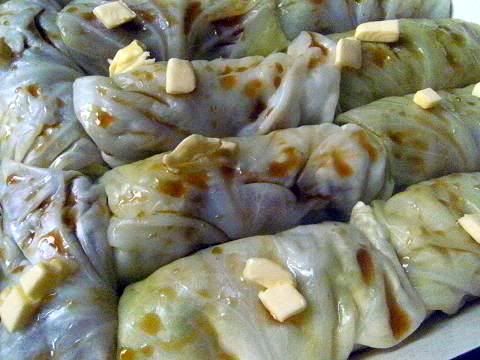 After two hours of baking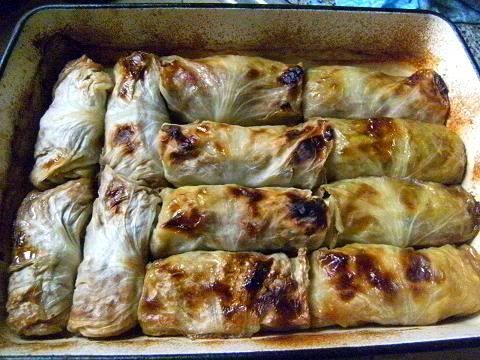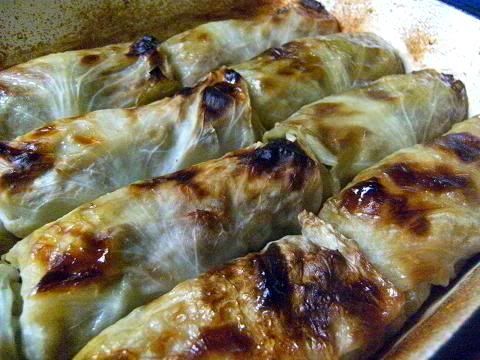 After 2½ hours of baking with basting in the last ½ hour notice the huge difference in the appearance, gleaming with deliciousness.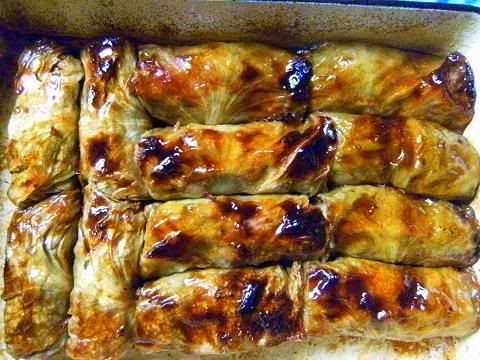 Perilla leaves deep fried and stuffed with blue cheese, salami, olives, semi-dried tomatoes & rice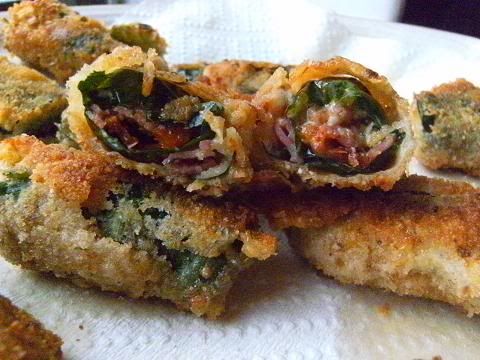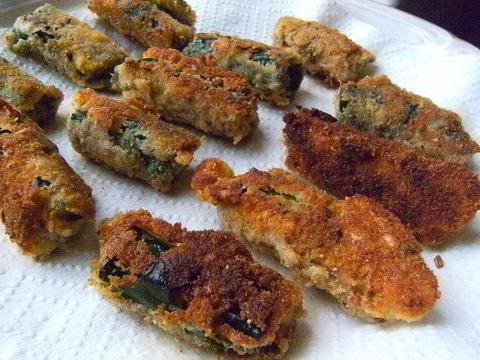 I wanted to make a recipe using fresh leaves I searched the local markets and found fresh perilla leaves (also called the beefsteak plant, shiso, purple mint, Japanese basil, or wild coleus) which are so pretty - green on one side and violet on the another side. They taste like fennel and apple with a lot of basil and mint the flavour profile is intense since the leaves are full of essential oils. The leaves are reasonably tough and can withstand some simmering (about 10 mins) and they fry really well to a crisp leaf and frying intensifies the mint and basil aspects of the taste. So I thought I would crumb (bread) and deep fry the stuffed perilla leaves.
These are incredibly rich and four parcels are a serving. They have a wonderful mouth-feel and an intense blue cheese and olive taste with a basil/mint aftertaste, so yummy and tasty. Excellent party food you will only need a few to feel very full.
Deep fried perilla leaves stuffed with blue cheese, salami, olives, semi-dried tomatoes & rice
Makes 48 parcels
Ingredients
¼ cup blue cheese
¼ cup salami, chopped
¼ cup olives, chopped
¼ cup semi-dried tomatoes, chopped
¼ cup rice, cooked
48 fresh perilla (shiso)leaves
Ingredients for crumbing
1/2 cup flour
1/2 cup fresh breadcrumbs
2 large eggs and 2 tablespoons of milk, beaten lightly
oil for deep frying
Method
Combine using a wooden spoon the blue cheese, salami, olives, semi-dried tomatoes and rice until smooth.
Wrap one teaspoon of mixture using a perilla leaf.
Flour, egg wash and crumb each perilla leaf parcel do not cover evenly (tempura style) so when the crumbing is deep fried the crisp perilla leaf will show through in places.
Deep fry each side of the parcel for 30 seconds.
Drain each parcel on paper towels.
Fresh Perilla leaves (I used the Vietnamese species). See
here
for a listing of types.
A smooth mixture of blue cheese, salami, olives, semi-dried tomatoes and rice
Perilla leaves parcels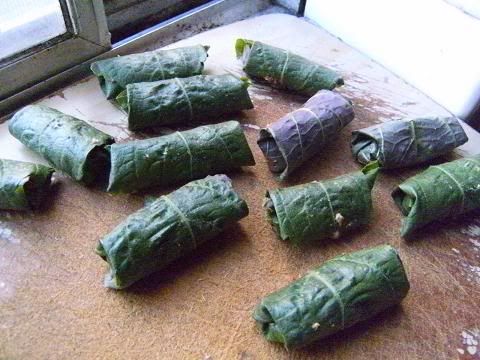 Crumbed perilla parcels
Deep fried perilla parcels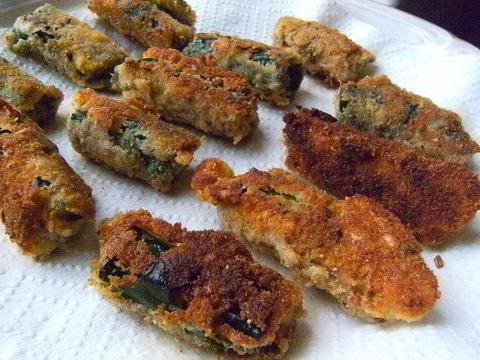 Close up of perilla parcels