This month's Daring Cooks' challenge hosted by Mary, from
Mary Mary Culinary
was to make appams with a curry. Appams are thin crisp pancake made with ground rice and coconut milk that has fermented. Appam come out like a cross between a crêpe and a crumpet, with a thin, lacy, crisp edge and a thicker spongy middle. Appams are part of the culinary traditional of South India.
Blog-checking lines:
Mary, who writes the delicious blog, Mary Mary Culinary was our August Daring Cooks' host. Mary chose to show us how delicious South Indian cuisine is! She challenged us to make Appam and another South Indian/Sri Lankan dish to go with the warm flat bread.
I have to say I was happily surprised that appams are easy to make and are super tasty! I love how in the Daring Cooks' we try so many different types of foods from around the world. I can totally recommend the appam recipe to one and all.
Curried vegetables with appams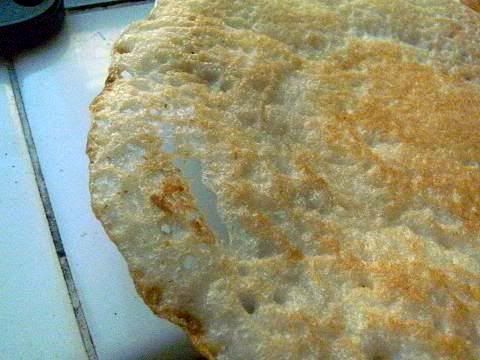 This is such a great challenge the appam batter is simple to make and to cook. I tried various cooking methods with the fermented batter and I like my appams crisp, thin and very brown. I made a vegetable coconut curry (made with broccoli, carrots and potatoes and a home made curry paste with sour tamarind pulp and curry leaves) to serve with the appams. Thank you so much for the fabulous challenge the appam really has a nice delicate "sour" rice flavour.
I don't have a powerful blender so the appam batter was a little gritty but it cooked up fabulously, I got about 13 appams from the recipe. They must be served immediately since appams don't store well.
Mary thank you for the marvellous challenge, I will be trying some more curry recipes during the month.
Soaked rice
Yeast mixture
Batter after overnight fermentation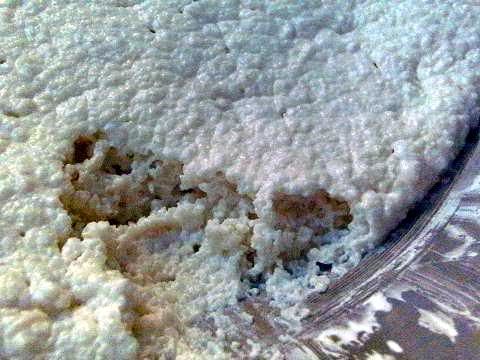 Cooking batter into a appam
I like my appams to be thin crisp and brown
Appam with vegetable curry